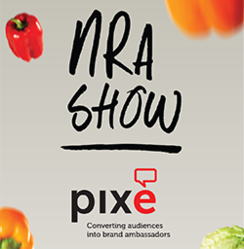 Columbia, MD (PRWEB) May 15, 2013
NRA Show 2013 will be held May 18-21 at Chicago's McCormick Place.
Pixe LLC will be donating $2 for every photo taken at the photo booths to the National Restaurant Association Educational Foundation (NRAEF), and has pledged to raise at least $5,000 for National Restaurant Association Education Fund (NRAEF). In addition, Pixe will be giving away free $5 gift cards to the first fifty (50) visitors at the photo booths daily at NRA Show. Pixe will also be giving away one iPad® Mini to one lucky winner each day of the Show.
The photo booth solution by Pixe is considerably different from the traditional run-of-the-mill photo booths. Backed by some very smart technology, it is deeply integrated with leading social media sites, and facilitates interactive social engagement to augment the attendee experience at face to face events.
Attendees will be provided with cool props such as Venetian masks and colorful boas to take and share their photos on NRA Show's Facebook® Page and Twitter® feed in real-time. The photos will also be available on Instagram® and Pinterest®. They will have the option to add their own Twitter handle as well as request an electronic copy of their photo. They can then infuse a little social media magic into their NRA Show participation by tagging, sharing and commenting on their photos to engage their own fans and followers.
The solution will provide attendees with a unique opportunity to digitize their time at NRA Show while enriching NRAEF's effort to develop the best and brightest talent into tomorrow's restaurant and foodservice leaders.
The photo booths will be accessible at three key locations on the Show floor: Grand Concourse – between the exhibit halls, outside World Culinary Showcase, and the inside entrance to North Hall, Level 1.
To learn more about the photos booth at NRA Show 2013, visit pixesocial.com/nrashow.
About Pixe LLC
Pixe LLC is a Maryland-based start-up providing cutting edge social marketing solution that is on a mission to take the challenge out of social media marketing by converting audiences into brand ambassadors. The company's flagship solution - Pixe Social - enables businesses to tap into their current customer base effortlessly and exponentially extend the viral reach of their brands with a fun and engaging photo booth solution.
Generations ahead of conventional photo booths, Pixe Social is deeply integrated with the leading social media platforms such as Facebook and Twitter, ensuring that photos with glowing testimonials are posted to a brand's social media pages, Pixe Photo Wall as well as emailed to Pixe users in real-time. For more information, visit http://www.pixesocial.com.
About NRA Show
The annual National Restaurant Association Restaurant, Hotel-Motel Show is the largest single gathering of restaurant, foodservice, and lodging professionals. NRA Show 2013 will be held May 18-21 at McCormick Place in Chicago, and the 2013 International Wine, Spirits & Beer Event held in conjunction with the NRA Show will take place May 19-20. The events attract 61,000+ attendees and visitors from all 50 states and 100+ countries, and the event showcases the latest products, services, innovative ideas, up-to-the-minute information about trends and issues, and more growth opportunities than any other industry event. For more information, visit the NRA Show at WineSpiritsBeer.org.