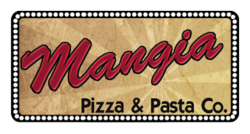 Kalamazoo, MI (PRWEB) May 15, 2013
New restaurant owned by Emilio and Maria Dacoba, Mangia Pizza & Pasta Co. located at 3112 S. 9th St. in Kalamazoo, Mich., opened its doors May 2, 2013.
When Mi Ranchito, a local Kalamazoo Mexican food restaurant closed, the Dacobas jumped on the opportunity and purchased the building. The Dacobas also own Mangia Mangia, an Italian restaurant in downtown Kalamazoo and as part owners of La Cantina, an Italian restaurant in Paw Paw, Mich. They completely renovated the building for their latest venture, Mangia Pizza & Pasta Co. It now features multiple fireplaces and romantic tables to give the restaurant a warm, cozy feeling. The style of the new restaurant was created with the intent of making their guests feel like they are in Tuscany.
Mangia Pizza & Pasta Co. serves, pizza, pasta, sandwiches and more. Many of the menu items are new, however there are some favorites from Mangia Mangia and La Cantina featured as well. All menu items are made from scratch, with a strong focus being placed on making excellent pizzas. Mangia Pizza & Pasta Co. also serves craft beer and wine from several local establishments. These include wine from St Julian and Fenn Valley. The restaurant also features wines from Tuscany and California.
The new restaurant is open for dinner daily at 4 p.m. daily and will begin serving lunch as well later this month. Mangia Pizza & Pasta Co. also offers full service catering along with beer, wine and food carryout. The restaurant has both indoor and outdoor seating in addition to private dining for special events. For more information, visit the restaurant's website.
The website for Mangia Pizza & Pasta Co. was created by the team at Blue Fire Media. Blue Fire Media, located in Portage, Mich., specializes in developing and designing websites. They also provide web marketing and SEO strategies the meet your specific business needs. For more information, visit the website.