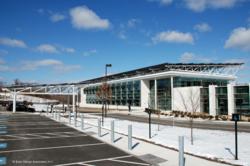 "We congratulate Solar Design Associates and Ross Solar Group on their design and construction of this noteworthy installation," said Howard Wenger, SunPower president of regions
New York, NY (PRWEB) May 15, 2013
Solar Design Associates, a Harvard, MA-based solar engineering firm and Ross Solar Group, a Brookfield, CT-based solar installer - both SunPower Commercial dealers, today announced that they have received the SunPower "Intelegant Award for Excellence" for a commercial solar photovoltaic project commissioned in 2012. The companies won this national award for their installation of a 343.4kW solar power system at the Allied Health Sciences Laboratory at North Shore Community College located in Danvers, MA. SunPower dealers are selected to receive the "Intelegant Award for Excellence" for projects that demonstrate the highest quality of design and installation, as well as system owner satisfaction.
"We congratulate Solar Design Associates and Ross Solar Group on their design and construction of this noteworthy installation," said Howard Wenger, SunPower president of regions. "Solar Design Associates and Ross Solar Group have demonstrated a level of quality and commitment to excellence worthy of this prestigious award, and we look forward to their continued success as SunPower Commercial Dealers in 2013."
Every Watt-hour counted for this building to meet its strict energy goals. The Division of Capital Asset Management (DCAM) was responsible for implementing the project for North Shore Community College, and recognized the value of having the most efficient modules on the planet to help reduce associated structural and installation costs for the Allied Health Sciences Laboratory. The system, which incorporates roof-truss-mounted SunPower 327W modules along with sub-arrays on walkway canopies in the parking areas leading to the building entrance, has performed well and exceeded expectations in its first year. The outside mounted inverters include a central inverter and string inverters to address maintenance considerations and maximization of energy production for the different tilt angles included within the overall system.
"On behalf of Ross Solar Group and Solar Design Associates we are honored to receive the 2012 'Intelegant Award for Excellence' from SunPower acknowledging our success with the North Shore Community College," said Robert Erb, Solar Design Associates' Senior Project Manager. "Partnering with SunPower, a global solar leader offering the world's most reliable and efficient solar panels, allows us to offer our customers the best technology as well as superior customer service and workmanship."
About Solar Design Associates
Solar Design Associates is a pioneering architecture and engineering firm that has been devoted to integrating solar energy systems in the design of buildings since our founding in 1974. Our interdisciplinary group of professional engineers and architects manages projects locally, nationally and around the world.
About the Ross Solar Group LLC
Family owned and operated since 2007 Ross Solar Group has installed over 400 residential and commercial installation throughout Massachusetts, New York, New Jersey and Connecticut.