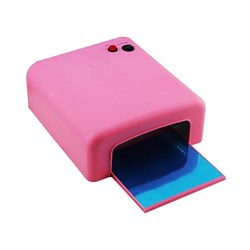 (PRWEB) May 15, 2013
DIG NAIL, one of the leading online retailers of nail art supplies, has now launched iDig UL-818. The iDig branded products have been well received among nail art lovers for their quality construction and elegant designs. As the newest member of iDig family, iDig UL-818 has inherited the most favorable features of iDig series products.
The iDig UL-818 is a 36W nail curing UV lamp featuring multifunction and easy operation, suitable for both professional and personal nail care uses; it is an essential tool for making phototherapy nails. The lamp adopts advanced technology that offers users faster, safer and odorless curing.
The iDig UL-818 is an over-voltage, over-load and over current protected UV lamp nail dryer. By adopting professional-grade materials, it is very durable. In addition, this UV Gel nail curing light is lightweight, slim and portable for daily use.
Brief Features:
■Professional UV nail curing lamp for salon use
■36 watt(4 x 9W) UV light cures gels fast
■Includes four pieces 9W bulbs (two located at the top of the lamp and one on each side)
■Cures gels in as little as 60 seconds
■Features three automatic timers (60 sec, 120 sec and 180 sec)
■Reflective layers on the inner wall of the lamp, more effective for curing
■Can be used for setting nail polish and various kinds of UV products, such as UV Top Coat, UV Builder Gel, etc.
■Leaves nails with a beautifully smooth even finish
UV Lamps VS LED Lamps (The following information is cited from nail art forum NAF)
There seems to be a lot of confusion over what these are and what makes them different.
Firstly both are just a type of light bulb.
1) Hot cathode lamps. These are traditional Edison light bulbs and halogens – anything with a wire (filament) that generates the light.
2) CCFL – cold cathode fluorescent lamp – this covers neon bulbs and any lamp that uses an electrical charge to cause a gas combination to produce a fluorescent light.
3) LED – light emitting diode – this is the new emerging energy efficient alternative. Instead of a gas or filament a small diode is charged and in turn produces photons of visible light.