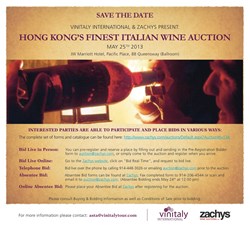 "Finest Italian Wines on offer at World's largest Auction Market"
Verona, Italy (PRWEB) May 15, 2013
Vinitaly International, the ambassador of Italian wine and Zachys Asia present the first edition of "Hong Kong's Finest Italian Wine Auction" on May 25th at JW Marriott Hotel in an event that is exciting Asian collectors and industry professionals alike. As Hong Kong surpassed New York and London as the world's largest wine market last month, and the prices for Bordeaux dropped, the time is right for Italian wines to be on offer at an auction market that was worth US$22.6 million or HK$175 million in the first quarter of 2013, with an the average price per lot of US$4,095 or HK$31,783 (Source: Wine Spectator).
Vinophiles will be able to snap up rare wine gems at the second day of the two day event that are often for the very first time on the market in Asia. The auction list features stellar wine collectables with great provenance and condition coming directly from the cellars of Marchesi Antinori, Tentuta San Guido - Sassicaia, the late Franco Biondi Santi, Marchesi di Frescobaldi, Tenuta dell'Ornellaia, Marchesi Di Barolo, Cantina Argiano, European winery of 2013 Arnaldo Caprai, Poderi Luigi Einaudi, Masciarelli, Carpineto, Castello Di Ama, Tenuta Di Biserno, Tenuta Borgogno, Livio Felluga, Fèlsina, Allegrini Estates, Castello Banfi, Ferrari F.lli Lunelli, Poderi Einaudi, and Zenato.
Interested parties are able to participate and bid in various ways: Live in person, online, via telephone, absentee bid or pre-registered bid. The complete catalogue and participation forms can be found here: http://tinyurl.com/buppux6
Stevie Kim, Managing Director of Vinitaly International remarked that: "This is the right moment for Italian wine in Asia. In light of the scandals of counterfeit French wines, market diversification, drop in Bordeaux prices and an increasing consciousness for fine Italian wines in Hong Kong and China, the sentiment for new taste patterns is favourable. Chinese consumers are learning quick, are inquisitive and become increasingly interested in the richness and breaths of Italian wine, alas still little known in Mainland China. This initiative together with our traditional participation at the "International Wine and Spirits Fair" (7th – 9th Nov.) is the right direction to give more visibility to our great Italian producers. It is also another good reason to be selling one more bottle of Italian wine."
Anticipated auction lots include 3 bottles of Acinatico 1928, an ancient Veronese Recioto from the family cellar of the high-end Amarone producer, Gaetano Bertani. The wine has an illustrious history since soon after the outbreak of the Second World War in 1940, German soldiers were billeted in a villa adjacent to the Bertani family's cellar. Faced with loss of their entire stocks to the German troops, the family determined to preserve at least their very best wines. The Acinatico was thus carefully walled in to remain lost from sight for the next 40 years. The wines were re-discovered by chance in 1984 when labourers carried out construction work uncovering wooden cases containing 7,500 bottles of the precious, perfectly preserved wines. Only once, on January 12, 2001, four bottles were put on auction by Christie's New York and sold to a single buyer for US$9,200. This is only the second time that this wine is on auction.
According to the latest HKTDC data, the overall wine imports to Hong Kong dropped last year by 17,7%, with another 2,4% decline in the first three months of 2013. Italian wine ranks at the 5th place for imports by origins with France being number one at 56,5% market share, yet France continues to loose ground after a 24% drop in 2012 and -1.1% in the beginning of 2013. Italy gained almost 20% last year, with a 6% decline for the first three month of 2013. Overall the market has performed exceptionally. In 2012, imports of wine amounted to HK$8.1 billion, a four-fold increase from 2007. Hong Kong has the region's highest annual wine consumption, at 5,3 litres per person - double the Japanese and Singaporean levels.
About:
Veronafiere is the leading organizer of trade shows in Italy including Vinitaly (http://www.vinitaly.com), the largest wine event in the world. The 47th edition of Vinitaly counted some 148,000 visitors (+6%), of which 53.000 were international attendees (+10%) visiting from 120 countries. On 95.000 square meters, 4.200 exhibitors welcomed trade professional, media and producers alike. The next instalment of the fair with take place on 6th-9th April 2014. The premier event to Vinitaly, OperaWine (http://www.OperaWine.it) "Finest Italian Wines: 100 Great Producers" will unite international wine professionals on April 5th 2014 in the heart of Verona. Veronafiere also created Vinitaly International http://www.vinitalytour.com in 1998 to develop a global platform for the promotion of companies in the Italian wine and food sectors.
# # #