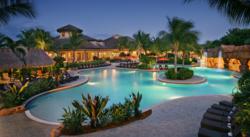 "This is a terrific honor for us as a family-owned company," said Brian Stock. "It is remarkable given that we build only in Southwest Florida, we are able make a list that is dominated by large corporate builders who operate nationwide."
Naples, FL (PRWEB) May 16, 2013
BUILDER, the leading media brand in residential construction, this week unveiled the BUILDER 100, its annual ranking of the 100 largest home building companies. In a list dominated by large national and regional builders, Stock Development's Southwest Florida operations ranked 89th.
"This is a terrific honor for us as a family-owned company," said Brian Stock, CEO of Stock Development. "It is remarkable given that we build only in Southwest Florida, we are able make a list that is dominated by large corporate builders who operate nationwide."
The BUILDER 100 continued to outperform the overall market last year. Closings for the BUILDER 100 companies totaled 167,658 in 2012, up from 141,618 in 2011, the lowest total on record. The top 10 builders retained their dominance, closing one-quarter of all new homes for sale in 2012. Overall, BUILDER 100 companies closed 44.2 percent of all new homes for sale, a slight increase from 2011.
"2012 was a shot in the arm for the nation's largest builders," said Jean Dimeo, editor-in-chief of BUILDER. "Clearly, builders benefited from improved economic conditions, low mortgage interest rates, and lower land costs. These factors not only allowed companies to organically grow sales, but also expand into new markets that had pent-up demand for new homes."
Stock Development had terrific sales in 2012 with more than 400 new home sales and $280 million in sales company wide. New home sales were up 32.4 percent overall with 405 new units contracted.
"New home contracts were up by one-third over 2011," said Stock. "Our average sales price increased 13.8 percent. The market strengthened dramatically in 2012 and our decision to aggressively build inventory homes paid dividends."
Stock Construction is one of Naples' most respected builders with more than 3,000 new homes built throughout Southwest Florida and has been showered with nearly 400 local, regional and national awards. Their stellar residences and lifestyle amenities have earned them an unprecedented 12 Community of the Year awards from the local building industry associations over the past seven years.
The company is building in eight Southwest Florida communities and has more than 50 beautifully furnished models open in Treviso Bay, Fiddler's Creek, Lely Resort, Mediterra, Olde Cypress, Black Bear Ridge, Quail West and Paseo.
Stock Development is located at 2647 Professional Circle in Naples. For more information, visit the Stock Development website at http://www.stockdevelopment.com or call (239) 592-7344.