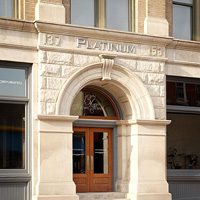 Winner of numerous historical preservation awards.
Dubuque, Iowa (PRWEB) May 15, 2013
Platinum Supplemental Insurance will host an open house and ribbon cutting ceremony for the The Platinum Building on Tuesday, May 21 at 4:30 p.m., directly followed by a Chamber Business PM from 5-7 p.m.
The event is sponsored and marketed by the Dubuque Area Chamber of Commerce as a professional networking opportunity and designed to showcase a company's facilities. Although Platinum has inhabited the building since 2004, renovation of the century old building and its five floors, which began in 2003, has just been recently completed. The building renovation has garnered numerous historical preservation awards from the Dubuque Main Street and Dubuque and Iowa historic preservation organizations.
Members of the chamber management team, Chamber Ambassadors and city dignitaries will perform the ribbon cutting with Platinum's Wayne Briggs, President; VPs, Mike Muench and Eric Lucy; and Chief Operating Officers, Mike Berg and Jim Lange, in front of the building to kick off the evening.
For more information about the event, contact the Platinum Media Department at 563-557-2504
About Platinum:
Platinum Supplemental Insurance is one of the most innovative marketers of exclusive supplemental insurance products in the Midwest, offering custom designed products that include Cancer, Heart Attack & Stroke, both Long and Short-Term Care and Accident & Disability insurance solutions. In addition, Platinum has also made their Cancer, Heart Attack and Stroke insurance product available to companies and businesses of all sizes for employers to use as an enhancement and addition to their employees' current benefit package.
Headquartered in Dubuque, Iowa, Platinum's growth is a direct reflection of its commitment to exceed customer expectations with excellent service and affordable products that are underwritten by highly rated companies. Platinum has proudly held an A+ rating from the Better Business Bureau since 2004 for meeting the bureau's accreditation standards year after year.
With a solid fundamental mission to provide the best products and services to their customers, Platinum also invokes a commitment to their representatives and employees with outstanding opportunities for personal, professional and financial growth.
For more information on Platinum Supplemental Insurance, please visit http://www.pltnm.com.