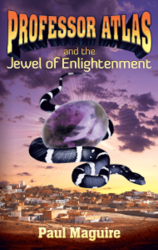 (The book) is a rip-roaring tale of action and intrigue, with nonstop thrills and narrow escapes.
NEW YORK, N.Y. –
(PRWEB) May 14, 2013 -- Tyler Gerard and Brandon Giles are not typical seventh-graders. While their peers spend their days hanging out with friends at the mall, these boys have taken up with renowned explorer Professor Fielding Atlas, ensuring that their lives will never lack adventure again. Their last exploit sent them to the Middle Ages, but their newest mission -- described in this new novel -- is no less action-packed. Upon their return to 21st century England, Tyler, Brandon, and Professor Atlas learn that their presence is required in Japan, where they are to reconnect with the wizard Mercastus. As they contemplate how they will make the long trip without any money or means of transportation, however, they find themselves in peril once again.
Kidnapped by an old enemy, the trio of heroes find themselves en route to a mysterious, but certainly deadly, location. Soon, the events that follow require them to use their heads to infiltrate the Tiger of Alecto, a terrifying sect of extremists headed by the bloodthirsty Vijay Verma. Verma has stolen the Jewel of Enlightenment, a powerful amethyst that could wreak destruction upon humanity now that it has fallen into the wrong hands. With tactical support from the jewel's most recent owner as well as help from a long-lost friend, the trio set about preventing potential annihilation. Will the three heroes be able to complete their most dangerous quest yet? Will Vijay Verma and his followers manage to harness the jewel's magnificent powers for their most horrific goals?
"Professor Atlas and the Jewel of Enlightenment" is a rip-roaring tale of action and intrigue, with nonstop thrills and narrow escapes. Tyler and Brandon's rollercoaster of an adventure will keep readers turning the pages and hoping the tale will never end. Author Paul Maguire worked on the New York Stock Exchange for more than two decades before deciding to embark upon his lifelong dream of writing. He lives in New York with his wife and three children. This is the second book in Maguire's Professor Atlas series.
----------
For additional information, please visit http://www.paulmaguireauthor.com.
Professor Atlas and the Jewel of Enlightenment
Paul Maguire
Dog Ear Publishing
ISBN: 978-1-4575-1713-6 272 pages $14.95 US
Available at Ingram, Amazon.com, Barnes & Noble and fine bookstores everywhere.
About Dog Ear Publishing, LLC
Dog Ear Publishing offers completely customized self-publishing services for independent authors. We provide cost-effective, fast, and highly profitable services to publish and distribute independently published books. Our book publishing and distribution services reach worldwide. Dog Ear authors retain all rights and complete creative control throughout the entire self-publishing process. Self-publishing services are available globally at http://www.dogearpublishing.net and from our offices in Indianapolis.
Dog Ear Publishing – self-publishing that actually makes sense.