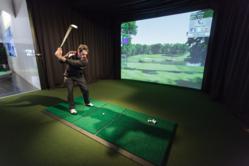 Our clients are enjoying a more engaging experience - we can provide them with instant feedback and detailed shot analysis after every swing.
Toronto, ON (PRWEB) May 15, 2013
VIP Clients invited to Cobra-Puma Golf's Canadian head office are able to test products in a realistic setting, with the recent installation of a High Definition Golf™ simulator.
"With HD Golf, we can precisely demonstrate the effectiveness of Cobra-Puma equipment right in our office," said Shawn Currier, Technical Co-Ordinator for Cobra-Puma Golf Canada. "Our clients are enjoying a more engaging experience and we can provide them with instant feedback and detailed shot analysis after every swing." The office provides club fitting for high profile clients including celebrities, executives, PGA Tour Pros and other professional athletes. Currier says the simulator has been fully booked since its installation.
Cobra-Puma Golf joins a growing list of manufacturers, retailers and club fitters around the world using HD Golf's for testing products & fitting clubs. "It's important to do your research and invest in the right system," says Currier. "We know that how our equipment performs for customers on an HD Golf simulator is how it will perform on the course."
Currier says their sales team is provided with invaluable customer data collected by HD Golf's integrated software package. Data includes shot distance (carry & roll), ball speed, club speed, launch angle, swing-path (outside/in, inside/out), club head angle at impact (within +/- 10th of a degree), ball spin and trajectory (fade, draw, hook, slice). The golf simulator also measures shaft flex profile, club head acceleration, position of maximum club head speed, angle of attack, load factor and swing tempo.
"We developed software specifically for testing and fitting equipment. You are able to study your customer's data and make recommendations based on key performance indicators that are captured and displayed by our simulators," says Todd Richardson, President & CEO of HD Golf™. "With our system, it's easy to measure the performance of every club, shaft or golf ball being tested, and retain that data for your clients." says Richardson. Many businesses also provide value-added services for customers, through their HD Golf's systems, including golf instruction and video swing analysis.
About High Definition Golf
High Definition Golf™ is the only golf simulator that looks and plays like the real thing. Spectacular photo-realistic capabilities capture the true beauty of some of the world's most renowned golf courses including from Pebble Beach® to St. Andrews®. Revolutionary image processing software combines high resolution digital imagery and satellite data into 3D models of golf courses that not only look real - they are completely accurate everywhere on the course. For more information please visit http://www.HDgolf.com.
About COBRA-PUMA GOLF
Cobra-Puma Golf is a corporate division of Puma North America and combines two strong brands that provide a full range of offerings to the golf industry. Cobra-Puma Golf is an inclusive company for golfers of all abilities, attitudes and styles who enjoy the game. The portfolio includes Cobra Golf's high performance drivers, fairways, hybrids and irons, as well as Puma Golf's sport and lifestyle footwear, apparel and accessories for both men and women. Fusing performance and style, Cobra-Puma Golf brings a focus on innovation, technology, compelling design and superior performance with an edge to the global golf marketplace. Cobra-Puma Golf is a part of Puma AG, one of the world's leading sport/lifestyle companies that designs and develops footwear, apparel and accessories. For more information, visit golf.puma.com and cobragolf.com.