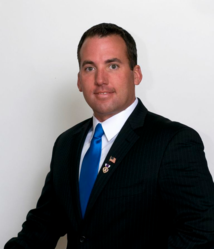 I want voters to know that I am going to fight hard for the nomination, fight hard to be elected and then fight hard to represent the people of North Carolina.
JACKSONVILLE, NC (PRWEB) May 16, 2013
Jason Thigpen officially kicked off his campaign for U.S. Congress to represent the 3rd District of North Carolina. In his official campaign video, Mr. Thigpen says that he is running Congress because "America Matters."
Mr. Thigpen spent most of his life in North Carolina. He grew up in Wilmington, and showed signs of becoming a successful business person and entrepreneur. September 11, 2001 changed all that. After the attacks on America, Jason began the process to sell his business interests and soon enlisted in the U.S. Army. He served in combat, including a fourteen-month tour in Iraq.
Upon his return from active duty, Jason enrolled at the University of North Carolina - Wilmington (UNC-W). While still a student, Jason saw other veterans being hurt by some of the unintended consequences of the post-9/11 G.I. Bill. He formed a non-profit organization to advocate on behalf of his fellow student veterans.
"While in the Army, I learned that my true passion was serving my country," Jason says. "I could not sit idly by while my fellow veterans were denied the benefits we earned after all we sacrificed. I formed the non-profit organization as a continuation of my service."
As an advocate for veterans, Jason worked to change laws at the Federal and state levels. It was the many visits to Washington, D.C. to meet with Congressman and testify before committees that Jason realized that more needed to be done. "I realized that Congress itself was part of the problem." Jason says. "If I was going to truly serve veterans, and have a positive impact for our community, our state and our country, I would have to try to change it from the inside and not the outside." he added.
Jason cites veterans' issues as part of his initial reasons for getting in the race, but says it much more than that. "Veterans represent a true cross-section of America. We come from races, religions and backgrounds. Veterans' issues are America's issues." he says. Issues like jobs and the economy, a regulatory environment that is bad for business and national security are all key issues for the campaign. "I'm running because America matters."
Jason acknowledges a tough road ahead. "I am challenging an incumbent who has spent nearly twenty years in Congress, switching parties and stances based on what is popular at the time," Jason says. But Jason says the campaign is getting a lot of interest and support from both Republican party leaders and grassroots activists. Thigpen even says there is evidence of strong support from independent voters who make up a third of the registered voters and are eligible to vote in North Carolina's semi-closed primary.
"Walter Jones has been in Congress long enough to be on both sides of nearly every issue." says Jason. "The district doesn't know where he stands anymore, or if he still represents their views and values." he adds.
While Mr. Thigpen announced his candidacy by filing paperwork with the U.S. Federal Election Commission (FEC) earlier this year, he recognized that he had to put a few things in order before gearing up for a full campaign. Mr. Thigpen had to transition out from leadership of the non-profit organization he founded - the Student Veterans Advocacy Group - as well as find time to graduate from UNC-W and get married.
With all that behind him Jason says he is 110% focused on the campaign and winning the Republican nomination. "The voters don't know or even see Jones anymore. I want voters to know that I am going to fight hard for the nomination, fight hard to be elected and then fight hard to represent the people of North Carolina." Jason said.