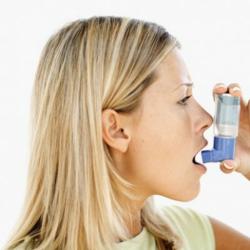 Fairfax, VA (PRWEB) May 15, 2013
Asthma is a disease that affects people's lungs. Asthma is a disorder that causes the airways of the lungs to swell and narrow, leading to wheezing, shortness of breath, chest tightness, and coughing. When it comes to women and asthma, the ability to breathe can be affected by pregnancy, the menstrual cycle, and menopause. Women who also have allergies and other asthma triggers may struggle to get a breath of fresh air.
Lung disease is a major concern for women and one of the most common is asthma. Asthma affects an estimated 18.7 million adults in the United States. Compared to male asthma patients, women with chronic asthma also face extra challenges due to menstrual cycle, pregnancy, and menopause.
Most women living with asthma are conscious of the seasons and specific allergies that might trigger their symptoms. They should be aware of their menstrual cycles as well. Shifting hormone levels impact the state of their airways. So can pregnancy and menopause, when hormones and other factors may affect asthma symptoms. Changing estrogen levels can lead to an inflammatory response, which can bring on asthma symptoms. In addition, asthma attacks can be very dangerous for pregnant women and their babies, since neither of them are getting enough oxygen when an attack happens.
For women living with chronic asthma, the trick to keeping your symptoms in check is working closely with your doctor to manage your ability to breath. Medicines can be used to treat asthma, but they cannot cure it.
Ways to control your asthma at home are:

Know the asthma symptoms to watch out for
Know how to take your peak flow reading and what it means
Know which triggers make your asthma worse and what to do when this happens.
References:
1. "Asthma in Women" by Heather Hatfield, reviewed by Brunilda Nazario, MD. Retrieved from http://www.webmd.com/asthma/features/asthma-women
2. "Asthma" Bronchial asthma A.D.A.M. Medical Encyclopedia [Internet]. Atlanta (GA): A.D.A.M.; 2013 Retrieved from http://www.ncbi.nlm.nih.gov/pubmedhealth/PMH0001196/#adam_000141.disease.symptoms
3. "FASTSTATS – Asthma" by CDC. Retrieved from http://www.cdc.gov/nchs/fastats/asthma.htm
4. "Lung disease fact sheet" from womenshealth.gov Retrieved from http://www.womenshealth.gov/publications/our-publications/fact-sheet/lung-disease.cfm