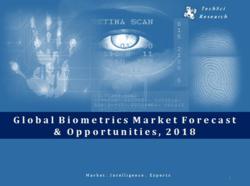 Asia is anticipated to overtake North America's biometrics market revenues by 2018.
Vancouver, Canada (PRWEB) May 15, 2013
Remembering dozens of passwords for various applications has become complex for the population. Passwords can be easily hacked by professional hackers around the world which is why many individuals had to change the passwords on regular basis. However, with the introduction of biometrics security solutions the users are now much relaxed.
The biometrics solutions is gradually shifting towards home security applications as initially the biometrics systems were limited to government and large corporations due to high prices. But with the emergence of affordable biometric solutions, a steady demand has been generated from SMB category.
According to recently published 2nd edition of "Global Biometrics Systems Market Forecast & Opportunities, 2018" by TechSci Research, the global biometrics market is anticipated to reach USD 20 Billion by 2018. The major share in biometrics technology has been figuratively captured by fingerprint recognition technology (AFIS & Non-AFIS). However, with the emergence of a lot of companies in this sector such as "Fujitsu Ltd" the market is poised for a stiff competition.
The government organizations have been the leading contributor to the industry which is anticipated to continue leading the market. In addition to that, large corporates have adopted biometric for logical as well as access control applications to increase the trust among their customers and employees.
Asia is anticipated to overtake North America by 2018 on account of huge growth in security market in the countries such as China and India. With the increasing IT security spending and growing government project in China, Indonesia, India and others will spur the demand for biometric systems.
Logical access control applications are growing rapidly with the increase in computer hardware and Internet. In addition, vein recognition technology is growing rapidly due to advancement in security management. Also, with the introduction of multimodal biometrics, the market is expected to touch new heights in the coming years.
'Global Biometrics Systems Market Forecast & Opportunities, 2018' has evaluated the future growth potential of biometrics market and provides statistics and information on market structure, trends and opportunities. The report includes segmental market projections and demand forecasting. The report is intended to provide cutting-edge market intelligence and help decision makers to take sound investment evaluation. Besides, the report also identifies and analyses the emerging trends along with essential drivers, challenges and opportunities available in biometrics systems market worldwide.