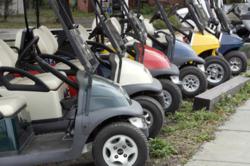 Tampa, FL (PRWEB) May 14, 2013
Golf Car Depot, located in Tampa and Pompano Beach Florida now offers the new 2013 my E-Z-GO Golf Cart.
Come by our store locations and ask about the new 2013 E-Z-GO models. All golf carts can be customized such as built in toolboxes, food service vehicles, spreaders, tow hitches and more.
Golf Car Depot is the single source for factory-built, customized golf cars, utility or special-use vehicles and burden carriers. Get access to the very best craftspeople in the industry with decades of experience in design, fabrication, welding, bending, tool and die and much more.
For more information on all Golf Car Depot's golf carts for sale and wholesale fleets, please contact us at golfcardepot.com or call:
Tampa Florida location: 813-996-5522
Pompano Beach, Florida location: 954-941-3918