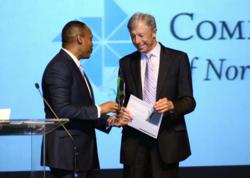 Gainesville, FL (PRWEB) May 14, 2013
NanoPhotonica is the winner of the 4th Annual $50,000 Cade Museum Prize. The winning next-generation S-QLED display panel from NanoPhotonica is 60 percent less expensive and uses 50 percent less power than current flat panel display screens.
In addition to the cash grant, provided by the Community Foundation of North Central Florida, the winner received $10,000 of legal services from the law firm of Edwards Wildman. The prize was awarded in a gala event on May 9 at Santa Fe College Fine Arts Hall in Gainesville.
The three runner-ups were:
•The X-Finger developed by Didrick Medical of Naples. The advanced artificial finger prosthetic is already in use by military veterans and children who have lost their fingers.
•A pyrolizer invented by Green Liquid and Gas Technologies in Gainesville. The device converts solid waste to energy using advanced thermal technology.
•Software to rapidly conduct bar inventory, developed by Partender, incubated in Gainesville's Founders Pad. The application reduces the time it takes to do inventory from 6 hours to 15 minutes.
Each of the runner-ups will receive $2,500 in legal services from Edwards Wildman.
About the Cade Museum for Creativity and Innovation
In 2004, Dr. James Robert Cade and his family established the Cade Museum Foundation to design and build a museum in Gainesville in order to inspire creative thinking, future inventors, and early entrepreneurs. A physician at the University of Florida (UF), Dr. Cade was best known as the leader of the research team that invented Gatorade for the UF football team in 1965.
In 2013, the Museum retained GWWO Architects of Baltimore, exhibit design firm Jack Rouse Associates from Cincinnati, and Gainesville-based Charles Perry Partners, Inc. as construction managers. The Cade Museum is scheduled to open in late 2015 to coincide with the 50th anniversary of Gatorade's invention. Learn more at http://www.cademuseum.org.
News brought to you by CBT News:
CBT News/Car Biz Today, is an online news source dedicated to providing the retail automotive industry with news, training and event coverage through various forms of multi-media journalism. The online news source has more than 25,000 subscribers made up of new car dealers and their personnel. CBT News is home to award winning broadcasters and is headquartered in Atlanta, Ga.