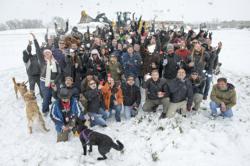 "Like anything worth doing, what we build winds up building us." - SparkFun COO Trevor Zylstra
Boulder, Colo. (PRWEB) May 15, 2013
SparkFun Electronics (http://www.sparkfun.com), a provider of parts, knowledge and passion for electronics creation, is excited to announce that it has broken ground on its new headquarters - an 80,000-square-foot building set on 4.3 acres of land in the outskirts of Boulder, Colo.
The new building will house all of SparkFun's operations, including inventory and production, and is developed in partnership with MultiProp Developers (http://multiprop.com/). Wyatt Construction will be the builders.
The new structure is being built with a focus on being "green," and will adhere to the strict International Green Construction Code. Plans include such features as a climbing wall, a rooftop deck, and a classroom for hosting electronics workshops. The building's design will also focus on personal interaction over convenience, with open architecture design between departments, fewer offices, and a single break room and exercise room for the entire space, to foster casual meetings between every person in the company.
"We are all excited about building the next home for SparkFun, and I love the challenges that it brings," said Chief Operating Officer Trevor Zylstra. "Like anything worth doing, what we build winds up building us."
The groundbreaking represents the culmination of over a year of planning, designing and working on funding for the new building. Ultimately, the structure, land and services for the new building will cost approximately $10.5 million. With ground broken the first week of May, there is an estimated timeframe of 10-12 months until completion.
To read more about the process behind the new headquarters, including documentation of the entire process, see this recent news post by Nathan Seidle, the company's CEO (https://www.sparkfun.com/news/1122).
------------
About SparkFun Electronics
Founded in 2003, SparkFun shares its passion by providing parts, knowledge, and innovation for those looking to explore the world of embedded electronics. It helps anyone discover their inner inventor and enables individuals to create their own electronics projects.
SparkFun currently offers more than 1,800 products, ranging from simple components, like capacitors and resistors, to GPS units and Bluetooth modules. The company employs 140 people and is based in Boulder, Colorado.
Find SparkFun on Twitter, Facebook, Flickr, YouTube, Vimeo and Google+.