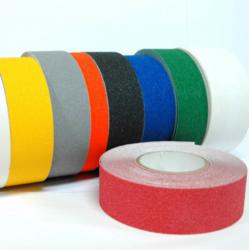 Sure Step is an affordable option and provides a dependable safety aid to our employees and customers.
Lake Oswego, OR (PRWEB) May 20, 2013
Anti slip tape was designed to prevent accidents in locations where a fall is more likely to happen. Traction products are available in countless forms; however, commercial anti-slip tapes are one of the simplest and most affordable options. Creative Safety Supply is now offering Sure Step – an anti-slip, high traction, skid resistant floor tape.
Sure Step has a 32 mil thickness and 60 grit aluminum oxide. It is waterproof and coated with an aggressive pressure-sensitive acrylic adhesive that is perfect for indoor and outdoor applications. The uses are vast including walkways, ramps, stairways; in machine shops, hotels, marinas, repair shops, etc. A business owner can feel confident they are complying with OSHA standard, OSHA 1910.263 (3) 3" core. Sure step is available in eight colors to stand out from, or blend in with current flooring.
Sure step will provide a gripping surface capable of aiding individuals in maintaining footing on naturally slick floors or at times when other factors cause the surface to become slippery. Non slip solutions are necessary in public and private facilities to prevent costly accidents by employees or customers. Anti-slip tape makes it easier for individuals to maneuver safely through a structure regardless of flooring conditions.
Anti-slip tape offers a low cost option to any business owner desiring to create a safer environment for their employees and customers. Stairs, lobbies, kitchens, and restrooms are great choices for the addition of anti-slip tapes. These areas become hazardous as spills occur or water is tracked in from outside weather. Flooring is often slippery by nature and the extra precaution will prevent an accidental fall. Installation takes only a couple of minutes with minimal maintenance requirements during use.
A business owner commented, "Sure Step is an affordable option and provides a dependable safety aid to our employees and customers."
For more information about Sure Step, please visit http://www.creativesafetysupply.com/Anti-Slip-Tape or call toll-free (866)777-1360 to speak with a professional representative.