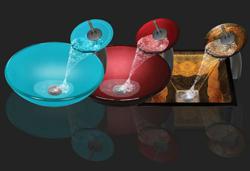 Toledo, OH (PRWEB) May 16, 2013
Glass vessel sinks have remained a popular choice in bathrooms for years. Using fully tempered glass and exceptional designs, line of glass vessel sinks is not one to pass up. From vibrant red bowls to detailed leaf-shaped basins, everyone is sure to find a sink to match their bathroom décor. And, just in time for summer remodels, MR Direct Sinks and Faucets has released several additions to their distinctive collection.
All of the glass vessel sinks carried by MR Direct are made from fully tempered glass. When the glass is processed, it is controlled by thermal treatments to increase its strength compared to normal glass. This is the type of glass used in vehicle windows, shower doors and architectural components due to its strength. If tempered glass happens to break, it crumbles into granular chunks instead of sharp, jagged shards making it a safe choice for busy households.
The additions to the existing glass vessel line include 20 sinks of varying sizes, shapes and colors. The popular and 603 existing glass vessel groups have received a new color to call their own: Turquoise. This energetic hue really stands out from the rest and will certainly add character to any bathroom. The other new additions include gold and bronze swirls, rich blues, fun pinks and purples and many more styles and patterns to choose from.
Most of these sink designs are made from foil overlays that are applied to the underside of the sink. These overlays are sealed for protection and add luster to the overall design. A few designs, like the 633 and , are carefully hand-painted and sealed to create a one-of-a-kind motif.
No matter the style, each sink has the option to add a glass waterfall faucet with a matching disc and three available finishes: chrome, brushed nickel and oil-rubbed bronze. Full specifications and other available accessories are listed in each sink product page on the MR Direct website.