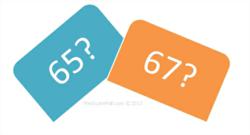 The Medicare eligibility age for most Americans has stayed steady at 65 ever since Medicare was introduced in 1965. But whether the Medicare age will remain 65 for much longer seems to be anyone's guess.
San Marcos, TX (PRWEB) May 16, 2013
Some observers and politicians insist there is little choice but to raise the Medicare age to 67. With the US economy having seen better days, many people argue that the federal government is obligated to find ways to trim spending—and people calling for a rise in the Medicare eligibility age vehemently argue that making most Americans wait two more years to get Medicare is a necessity if Medicare is to remain financially stable in coming years.
Although similar debate has surfaced before, the Medicare eligibility age for most Americans has stayed steady at 65 ever since Medicare was introduced in 1965. But whether the Medicare age will remain 65 for much longer seems to be anyone's guess.
Those calling for a change in the Medicare age argue that it will save money and help keep government and healthcare expenditures in check. But are they right?
The answer is far from unanimous. However, while observers have different opinions about whether raising the Medicare age would be good for the country, there does seem to be general agreement that a rise in the Medicare age would decrease expenditures directly related to Medicare. Medicare Advocacy, Inc., reports that "in 2014 alone, a full raise in the eligibility age would save $15.7 billion for the federal government."*1 The same organization, which seeks to inform the public about Medicare-related topics, estimates that delaying Medicare eligibility until 67 would save the federal government nearly $150 billion over ten years.
Figures such as these have led some key members of the Republican party, including 2012 Vice Presidential candidate Paul Ryan, to come out in favor of raising the Medicare eligibility age to 67. Some members of the Democratic party, meanwhile, reportedly have given signs they are considering doing likewise.
While there are no indications Pres. Obama is considering raising the Medicare age, some commentators argue that changing the eligibility age to 67 might help bolster support for the Affordable Care Act (ACA) of 2010, which the President staunchly stands behind. One provision of the ACA requires most Americans to have health insurance by 2014. If people approaching Medicare age are excluded from Medicare until age 67 it is widely believed that many will depend on other provisions of the ACA to ensure they have insurance to tide them over until they qualify for Medicare.
Although raising the Medicare age to 67 may force some 65- and 66-year-olds through difficult transitions, some of those supporting an age change insist the benefits would far outweigh the costs. The Social Security Administration reports that a rise in the Medicare age will result in dividends totaling "a 4.3 percent ($23.2 billion) reduction in Medicare expenditures by 2022."*2 Reacting to such figures, Stuart Butler, Ph.D, of the Heritage Foundation argues on the AARP's website that raising the Medicare eligibility age is the right move "given the budget problems we face and the fact that Americans are living longer." *3
Butler continues, "With more Americans living longer, and health spending on older people rising, we just can't afford Medicare at 65." Butler suggests raising the Medicare age to 67 or older over the next ten or fifteen years. "If we raised the Medicare eligibility age in this way" he says, "it would reduce Medicare's costs by about 5 percent over the next 20 years."
Proponents of an age increase point out that the government introduced Medicare in 1965 mainly to ensure retired Americans would have basic healthcare. At that time, eligibility was set at 65 for both Medicare and full Social Security benefits. Those same proponents point out that now, nearly half a century later, many Americans are retiring well past age 65 and remain eligible for employers' healthcare benefits until deciding to retire. Although the Medicare eligibility age remains at 65 for most Americans, eligibility for full Social Security benefits has risen to 66 for people born until 1961 and 67 for people born after 1961. Because Medicare and Social Security aim to serve the same general population base, proponents of raising the Medicare eligibility age argue that it makes sense to tie Medicare eligibility to full Social Security eligibility, with one age common to both.
There have been proposals to trim federal spending by raising full Social Security and Medicare eligibility well beyond age 67, with age 70 being put forth by some who seek substantial federal savings through cutting years out of the Medicare and Social Security eligibility period for most Americans.
Butler acknowledges that tying together full Social Security and Medicare eligibility would require most Americans to stay longer in the workforce. Yet he sees this in a positive light. In his view, Medicare would benefit from the decrease in expenditures resulting from eligibility being shortened as people worked longer. On top of that, he suggests "the wages or salaries for that extra time working would make retirement more financially secure for older people." Butler describes this situation as "a more sensible balance between years in the workforce and years in retirement."
People who suggest requiring Americans to work a few more years before they become Medicare-eligible at 67 point out that the majority of people working past 65, along with their spouses, will remain eligible for health benefits they get through their employers until they are eligible to enroll in Medicare.
Currently, Medicare provides health services to millions of disabled Americans under 65 who qualify for Social Security disability payments. Some people who favor raising the Medicare eligibility age also favor raising the eligibility age for Social Security Disability Insurance, while others do not believe disabled persons should be denied Medicare benefits as a result of cost-cutting. Others yet suggest that Medicaid should pick some of the slack if needy, deserving individuals become ineligible for Medicare coverage due to budget considerations.
Despite concerns about people who will lose Medicare if the eligibility age is raised, Forbes suggests that any reduction to Medicare is a good thing. Medicare drives up the cost of healthcare, says Forbes, partly because "Medicare's co-pays and deductibles are so low," *4 thus giving seniors "no incentive to avoid wasteful or excessive treatment." According to Forbes, Medicare "artificially underpays hospitals to care for Medicare patients, which leads hospitals to charge private insurers more, a phenomenon known as cost-shifting."
The view that a rise in the Medicare age would result more in shifting costs than cutting them is shared by many who oppose changing the Medicare age. Those sharing this view argue that any money saved would probably not offset new costs that would pop up elsewhere. And many argue that those new costs would actually exceed the amount of money saved by shortening the length of time Americans are enrolled in Medicare.
One reason overall costs may rise, according to opponents of raising the Medicare age, is that younger, healthier 65- and 66-year-olds would be phased out of the Medicare system, leaving a higher proportion of older, potentially sicker, and potentially more expensive people in the system.
There is also concern about the possible burden on employers if large numbers of 65- and 66-year-olds are all but forced to remain in the workforce for two extra years before becoming eligible for Medicare. Arguing that employers would be required to pay out billions more in employee healthcare costs, opponents of a change in the Medicare eligibility age voice concern that these costs could make it difficult for many businesses to continue employing people 65 and 66 years old. As a result, they say, 65- and 66-year-old people who do not qualify for Medicaid or disability insurance are likely to suffer.
Who among 65- and 66-year-olds would be hardest hit? According to Medicare Advocacy, Inc., "34% of Hispanics and 26% of African-Americans aged 65 and 66 would become uninsured" if the Medicare age were raised by two years. Overall, says Medicare Advocacy, "23% of Americans with incomes below 200% of the poverty line would become uninsured." Of those with coverage, Medicare Advocacy suggests many will be forced to pay more, with an estimated two-thirds of 65- and 66-year-olds who have health coverage incurring "an estimated $2,200 more in out-of-pocket costs per year including premiums and cost-sharing."
The debate is far from over. And, while Americans already approaching Medicare eligibility appear unlikely to be affected by talk of raising the Medicare age, this may be a good time for people now in their fifties or early sixties to speak out on an issue that could well affect them in the future.
*1: http://www.medicareadvocacy.org/2012/11/29/raising-the-medicare-eligibility-age-a-costly-and-dangerous-proposal/
*2 http://www.ssa.gov/policy/docs/ssb/v63n4/v63n4p17.pdf
*3 http://www.aarp.org/content/dam/aarp/research/public_policy_institute/health/option-raise-the-medicare-eligibility-age-AARP-ppi-health.pdf
*4 http://www.forbes.com/sites/aroy/2012/12/12/debunking-liberal-arguments-against-raising-medicares-retirement-age/