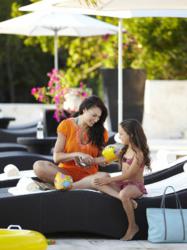 "Summer is all about having fun and reconnecting with loved ones."
Mayakoba, Mexico (PRWEB) May 15, 2013
The Riviera Maya continues to rank in the Top 10 most popular International summer destinations for American travelers, according the annual ASTA's 2013 Hot Spots for Summer survey, and so Fairmont Mayakoba is preparing to entice travelers by launching the "100 Days of Summer" program to include entertaining activities for guests of all ages.
As temperature soars, the family friendly resort, situated along Mexico's stunning Caribbean coast, will transform into an outdoor "pop-up" summer playground with golf, sea kayaking, spa boot camps, beer tastings and much more. Starting in celebration of Memorial Day on May 24th, during each of the "100 Days of Summer" a different activity will "pop-up" within the resort.
"Summer is all about having fun and reconnecting with loved ones. At Fairmont Mayakoba we are always looking for new ways to engage with our guests and offer unique experience with a local flavor" mentions Ian Robinson, Vice-president and General Manager of Fairmont Mayakoba. "The 100 Days of Summer program allow us to offer thrill and excitement by highlighting a popular trend our guests enjoy and continuing to focus on our strength as a destination for travelers looking to relax and entertain with family and friends," added Robinson.
Smile For The Camera
While enjoying these activities on property, guests are encouraged to join the fun by following the trend of the day, via the resort's social media accounts and posting their photos on Instagram (instagram.com/fairmonthotels) using the hashtag: #FairmontSummer
Some activities include:
Parent's Night Out
Available every Friday, from 6:00 to 8:00 p.m. little younger guests; ages 4 to 12, will have a night of fun of their own, while Mom and Dad ignite the spark with a Riviera Maya romantic dinner or a spa treatment. The supervised evening for children includes dinner and refreshments.
Frogtastic Adventure
At night, the Mayan jungle turns into a magical wonderland with mystical sounds as insects, amphibious animals and mammals use their sounds to communicate and protect their territory or attract their mates. With the use of lanterns, families will walk through the Riviera Maya resort's pathways looking for the wildlife that live within Mayakoba.
Stargazing Camping Adventure
Camping tents will "pop-up" at the Kids Camp, for kids ages 4 – 12, to enjoy safari night in Mayakoba that includes stargazing with the use of an iPad application. At the end of the evening, children will receive Milky-Way chocolates as a token of their visit.
Bird Watching
Guests will experience Southern Mexico's natural habitat within the resort. With over 240 animals species living in Mayakoba, the hotel's Ecology Manager will guide guests on a walking tour to spot wild birds going through their daily routines.
Eat like a local
When it comes to capturing the distinctive flavors of regional Mexican cuisine, the Riviera Maya resort's ocean front restaurant, Las Brisas, treats guests to a fusion of aromas, textures and flavors with accents of authentic Latin American gastronomy. Available only during the summer, a tasting menu is offered including items such as "cochinita" spring rolls and grilled lobster with Xtabentun.
"Shaken, not stirred"
In the chic James Bond style, the Lobby Lounge will set up a pop-up martini bar every Thursday evening. Starting at 4 p.m. guests will enjoy classics such as the Cosmopolitan, Dirty Martini, Appletini and a new mix of traditional ingredients such as Chaya, Hibiscus and Xtabentun to create some seasonal classics of our own.
Boot Camp to Happiness
Pursuing happiness, staying young and healthy, and learning how to focus on what's really important without the stress of missing out, are goals that spa goers and people all around the world can relate to. For the second consecutive year, Willow Stream Spa at Fairmont Mayakoba is partnering with celebrated author Ana Paula Dominguez, Founder and Director of the Mexican Yoga Institute to offer Boot Camp to Happiness, a powerful, life-changing weekend this summer. Available on July 26-28, 2013. Limited availability, advanced reservations are recommended.
Youth Golf Lesson
The Kids Camp presents a golf class for our youngest hotel guests. Take advice from the Jim McLean Golf School Pro for a hands-on golf party sure to inspire a love of the game that will last a lifetime. Available every Tuesday at 10 am and 11 am, priced at $20 USD per child, including round transportation to the school and rental equipment.
Social Tennis
With two lighted tennis courts and one paddle tennis court, Social Tennis is the perfect opportunity for hotel guests who would like to practice their tennis skills to connect with other players.
Fairmont Mayakoba is an idyllic destination for multi-generational travelers and adventure seekers. This summer guests can take advantage of 25 per cent discount on the Appetite for Luxury package, the ultimate inclusive plan starting at $459 per room, per night for two adults. For more information or to book a reservation, please visit http://www.fairmont.com/mayakoba.
ABOUT FAIRMONT HOTELS & RESORTS
Fairmont Hotels & Resorts is a celebrated collection of more than 65 luxury properties around the globe, including Shanghai's Fairmont Peace Hotel, The Plaza in New York, and Makkah Clock Royal Tower in the Kingdom of Saudi Arabia. The luxury brand's distinctive hotels offer a sense of heritage and sophistication, warm, engaging service and culturally rich experiences. Fairmont balances the company's economic, environmental and social priorities and provides the framework for responsible hotel operations through the Sustainability Partnership program. Fairmont is owned by FRHI Holdings Limited, a leading global hotel company with over 100 hotels under the Fairmont, Raffles, and Swissôtel brands. The company also manages Fairmont, Raffles and Swissôtel branded luxury private residences club, whole-ownership residences and serviced residences properties. For more information or reservations, please call 1-800-441-1414 or visit fairmont.com.