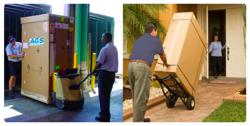 AGS is your White Glove Delivery specialist for industrial and home delivery of products with no restrictions on shape, weight or size.
(PRWEB) May 22, 2013
Associated Global Systems (AGS), a New York based, full service transportation and logistics provider, introduces its Virtual Appointment Calendar to its White Glove delivery customers.
The Virtual Appointment Calendar was originally created for the e-commerce/home delivery sector. Shippers are provided a link by AGS to include in their order reply to customers directing them to their website to schedule a delivery. The customer may choose from transit schedule and appointment time windows that are designed by the shipper.
Other attractive features of the calendar would provide consumer control of the delivery experience. Customers can choose the day and time that best suits them. Customers can enter free-form instructions that are sent directly to the local dispatchers. By using this Virtual Appointment Calendar, your customers will no longer wait for a phone call to schedule a delivery. A direct link can connect your customers to the scheduler via any electronic device and allow them to track their orders.
AGS provides a premium white glove delivery service to businesses and residences, with a unique value proposition, offering a customized supply chain solution to and from every zip code in the country. AGS offers a complete menu of transportation services and delivery options with no size or weight limits, a big advantage over the two leading small package express carriers that have carton limits of 150 pounds and 165 inches in length and girth.
This white glove delivery service is an ideal method for delivery of time-definite and sensitive products including computers, printers, TV's, kiosks, retail store displays and fixtures, fitness equipment, furniture and office equipment.
AGS is a leading provider of transportation services, logistics services, and supply chain management solutions worldwide. It has locations in over 125+ U.S. cities and 196 countries worldwide.
For more information on AGS' full menu of services, go to http://www.agsystems.com.