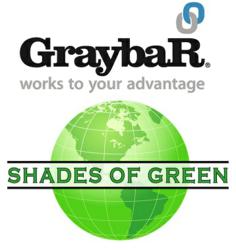 St. Louis, MO (PRWEB) May 15, 2013
DMG Productions today announced that Graybar, a leading distributor of electrical, communications and data networking products and provider of related supply chain management and logistics services, will be participating in a future episode of Shades of Green.
In the segment, Shades of Green will focus on Graybar PowerSmart®, a complete offering of energy-saving solutions that helps facility owners reduce costs and meet environmental goals. Viewers will learn about Graybar's commitment to environmental sustainability, both in the way Graybar runs its business and in the solutions provided to customers.
"Graybar is looking forward to showcasing how we can increase our customers' energy efficiency while saving them money," said Bill Mansfield, Graybar Vice President, Marketing. "The segment will specifically focus on Graybar's LEED-Gold-certified facility in Tucson as well as how Graybar works with strategic manufacturers like Schneider Electric to work to our mutual customers' advantage."
"Graybar is constantly exploring innovative solutions to serve its customers' needs," said Robert Sikich, producer of the show. "I'm looking forward to educating audiences on Graybar and its energy-saving solutions for businesses, which are creating a more efficient and sustainable future."
About Graybar:
Graybar, a Fortune 500 corporation and one of the largest employee-owned companies in North America, is a leader in the distribution of high quality electrical, communications and data networking products, and specializes in related supply chain management and logistics services. Through its network of more than 240 North American distribution facilities, it stocks and sells products from thousands of manufacturers, helping its customers' power, network and secure their facilities with speed, intelligence and efficiency.
For more information, visit http://www.graybar.com or call 1-800-GRAYBAR.
About Shades of Green:
Shades of Green is an award winning eco-friendly series strictly devoted to advancements in renewable energy and sustainable living. From biodiesel to wind power, Shades of Green gets up close and personal with the people and organizations dedicated to reducing our dependence on foreign oil and creating a sustainable planet.
For more information visit: http://www.dmgproductions.org or call (866) 496-4065.
About DMG Productions:
The DMG production team consists of producers, cameramen and editors that have worked for CNN, TLC, Discovery, and other major news and cable networks. Our staff includes personnel specialized in various fields from agriculture to medicine, independent films to regional news. Our field producers utilize the core concepts from our producers who storyboard our programs, and work closely with experts in the field to develop the educational programs. This powerful force enables us to consistently produce commercial-free, educational programming that both viewers and networks depend on.
Media Contact:
Robert Sikich, Producer
Shades of Green / DMG Productions
(866) 496-4065 x 805 / robert(at)dmgproductions(dot)org