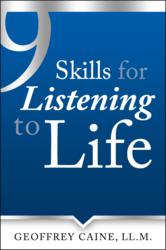 We are excited to get such a great resource into the hands of more people.
Livingston, NJ (PRWEB) May 15, 2013
Mr. Geoffrey Caine, leading educator and Executive Director of Caine Learning, is the author of '9 Skills for Listening to Life,' a short kindle book, which is part of the Listening to Life Series, that offers practical skills to improving listening skills. The kindle book hones in on several deep listening and communication skills that, once implemented, improves one's relationship in the workplace and home, while impacting one's pursuit of inner peace and success.
With such a useful and practical resource, Mr. Caine and his publishing partner firm, Funderstanding, utilized Amazon's KDP Select Program to get the book into as many hands as possible.
The final numbers for the promotional event were as follows: there were 2,256 total downloads for '9 Skills for Listening to Life,' both within the United States as well as international countries. For a steady two and a half days, the book ranked #3 in the 'Communication' category in the Kindle Store on Amazon. Finally, throughout the 3 promotional days, the book's bestselling rank for top free books improved by more than 4,000 positions.
Partner of Funderstanding, Paul Kondo recaps the promotional event for '9 Skills for Listening to Life':
"This promotional event was now our fourth one. Each time, we implemented different strategies to let more people know about the event. It seems like we are on the right track in terms of increasing our books' visibility through Amazon's free promotion program, as we have been experiencing growth in our numbers and efficiency in the preparatory stages. We are excited to get such a great resource into the hands of more people."
'9 Skills for Listening to Life' is still available at no cost for Amazon Prime Members and $2.99 for all others.
Funderstanding is holding another promotional event for one of their authors from May 21 to May 23. It will be for Mr. Bob Sullo and his book, 'The Inspiring Teacher.'
Follow Funderstanding on Twitter to stay up to date on their promotional events and other news.
About Funderstanding:
Funderstanding is a resource for teachers, parents, and students to stay up to date on education-related issues. The company focuses on innovative and progressive approaches to inspire learning in classrooms as well as homes. Funderstanding is also an ebook publishing partner company, focused on education-related content, which provides complete epublishing services as well as an expertise in ebook marketing and author branding.
Find more detailed information at: