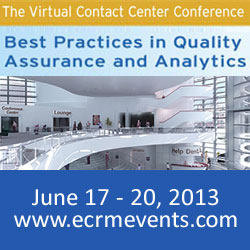 Montvale, NJ (PRWEB) May 16, 2013
CRMXchange, in association with The Quality Assurance and Training Connection ( QATC) will present a timely and compelling Contact Center Virtual Conference – Best Practices in Quality Assurance and Analytics, June 17 -20.
Quality programs are essential to the contact center. A quality assurance program provides organizations with valuable information for planning, training and incentive programs to improve individual and team performance. As customers use a wide range of channels to contact companies, the quality assurance programs will monitor performance across all channels, and capture business intelligence by tapping directly into your customer's insight about your business.
The virtual conference allows contact center teams to participate in expert-led, live workshops without incurring travel costs or time out of the office. And, if the times and dates are not convenient, all conference sessions will be available online to registrants for 14 days following the event.
As a special bonus, attendees can "meet" with vendors in the exhibit hall; obtain product information and download product videos, press releases, and white papers.
Participants can chat with presenters and peers in the virtual lounge, an exciting networking forum. They can learn what others are doing, meet colleagues, pose questions, and share insights.
The conference's keynote presentation, "Managing the Five Most Dangerous Distractions in the Workday" will be delivered by Jones Loflin, President of Helping Others Prepare for Excellence. He will discuss practical and simple ideas to stop distractions which can result in more workload. Attendees will learn how to apply this session to their workday as well as their personal lives.
Other conference presentations:

Best Practices in Scoring Agent Calls - Presented by CallMiner
From Big Data to Results that Matter - Presented by Aspect
It Shouldn't Have To Be So Hard - Proactively Identifying Customer Pain Points Using Whole Call Analytics- Presented by Avoke Analytics
Defining Soft Skills: What a Call Should Sound Like – Presented by the Call Center School
Leverage Your Secret Superpowers to Drive Customer Success - Presented by Verint
Seven Steps to Prepare for Analytics in Your Organization - Presented by CallCopy
Improving First Call Resolution through Analysis and Action - Sponsored by Genesys
QA and Analytics - A Match Made in Heaven - Presented by VPI
WFO (Workforce Optimization): What Happens When Quality Assurance, Training, and Workforce Management Intersect?- Presented by Carewise Health
For more information about this or other virtual conferences presented by CRMXchange, contact info(at)crmxchange(dot)com or call 201-505-1743.
Founded in 1995, CRMXchange has long been recognized as a premiere destination on the Internet for the exchange of information and ideas on customer relationship management, sales, contact center, and telemarketing issues. Today, the site offers a wide variety of resources for CRM professionals. CRMXchange has developed unique insights into the kinds of business intelligence and professional development programs required for successful contact center operations. And as a pioneer of the Internet, CRMXchange understands the profound role the Web can play in the all-important arena of peer-to-peer communication. Known by our audience as the "event site," CRMXchange has gained a reputation as an expert in the hosting and marketing of webcasts and other online events.