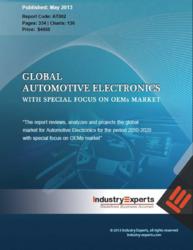 Rockville, MD (PRWEB) May 16, 2013
Automotive Electronics are increasingly utilized in today's automobiles. Beginning with the requirement of providing enhanced engine control, the current breed of automobiles has become more and more reliant on electronics, enabling them in going faster, even while providing highest levels of safety.
Today's contemporary cars have evolved into electronic machines, with more and more operations being controlled with electronic control units (ECUs). For instance, a premium segment car can comprise up to 150 such ECUs for controlling virtually all vehicle-related aspects. These can include an engine control unit for managing a car's efficiency, a steering and surround view system for preventing accidents, a telematic system offering information related to local hot spots, an electronic stability/traction control for maintaining appropriate steering control, and sensors for deploying airbags in the event of a collision.
The major trends driving demand for increased penetration of electronics in automobiles include regulatory mandates for improving fuel economy and stringent emission standards as well as requirements for advanced safety systems, consumer demand for safety & security and comfort & convenience features, and growth of hybrid and electric vehicles. Environmental issues and highly stringent government regulations have been forcing auto OEMs to accord greater importance to fuel efficiency.
The global market for Automotive Electronics, estimated at US$191.3 billion in 2013 and forecast to be US$204.6 billion in 2014, is further projected to reach US$314.4 billion by 2020, thereby maintaining a CAGR of 7.3% between 2012 and 2020. OEM Automotive Electronics, accounting for an estimated share of 86.3% in 2013 equating to US$165.2 billion in the overall Automotive Electronics market, is forecast at US$177.2 billion in 2014 and expected to register a 2012-2020 CAGR of 7.6% in reaching a projected US$277.1 billion by 2020.
For more information, visit
http://www.marketresearch.com/land/product.asp?productid=7561741&progid=85442
Follow us on Facebook http://www.facebook.com/marketresearchdotcom
Follow us on Twitter http://www.twitter.com/marketresearch_
About Industry Experts
Industry Experts values the most updated and accurate market research and industry analysis to provide a unique off the shelf market research reports for a broad range of industry verticals including Automobile, Healthcare, Food & Beverage, Chemicals & Plastics, Biotechnology, Consumer Goods and Other. Our research reports help our clients to identify and resolve topical issues by providing a complete picture of the market in their respective industry sectors. The Company's rich collection of market research reports enables the companies to explore market drivers; forecast the future market; and to formulate the right strategies at the right time.
About MarketResearch.com
MarketResearch.com is the leading provider of global market intelligence products and services. With research reports from more than 720 top consulting and advisory firms, MarketResearch.com offers instant online access to the world's most extensive database of expert insights on global industries, companies, products, and trends. Moreover, MarketResearch.com's Research Specialists have in-depth knowledge of the publishers and the various types of reports in their respective industries and are ready to provide research assistance. For more information, call Cindy Frei at 240.747.3014 or visit http://www.marketresearch.com