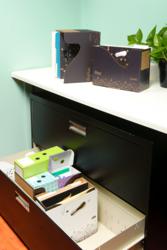 When we created the new system of file boxes and accessories our goal was to give consumers more options for organization. Having these products at Office Depot does just that, offering people easy access to innovative and eco-friendly products
Cincinnati, Ohio (PRWEB) May 15, 2013
Blegalbloss™, an ergonomics and design innovation studio based in Cincinnati, Ohio, today announced that the BOXIE file boxes, the Roo and ZipClip, are available at Office Depot. Products can be found online and through their private contract catalogs.
Blegalbloss currently offers three brand lines – BOXIE, Roo and ZipClip. BOXIE is a new system of file boxes and accessories for organization and storage. Additional items from the company that are available from Office Depot include the Roo, eco-friendly, modular organizers that can be used in replacement of hanging and generic file folders, and ZipClips™, box-locking fasteners.
"We've been excited to work with Office Depot on offering these products to customers," said Will Scott, Blegalbloss and BOXIE founder and CEO. "When we created the new system of file boxes and accessories our goal was to give consumers more options for organization and storage. Having these products at Office Depot does just that, offering people easy accessiblity to intuitive, innovative and eco-friendly products."
The BOXIE line is not only lockable, but its security features meet stringent privacy standards, including those for healthcare and financial services, making the boxes the most HIPAA- and FACTA-compliant ones available on the market. Also, BOXIES's ergonomic features put less strain and pressure on a user's arms and back, making the product safer to lift and easier to carry and move. Unlike other file boxes on the market, BOXIE's product line is attractively designed and durable enough to endure even the toughest everyday usage. As a result, BOXIE boxes and modular organizers are often proudly displayed and more easily accessibile. The integrated BOXIE line of boxes, Roo modular organizers and ZipClips introduces new functionality that enables people to organize their work and home more efficiently.
For more information about Blegalbloss and its brand lines visit http://www.GoBoxie.com. Follow the company on Twitter and/or Like it on Facebook.
About Blegalbloss™ and BOXIE™
Blegalbloss (/blē•gəl•blôs/) is a privately-owned international company that has created the BOXIE system of ergonomic and lockable file boxes and other office products. Its product line represents the first significant innovations in 100 years to the ubiquitous file boxes used by consumers and businesses. More than 45 patents are pending for Blegalbloss designs, including patents for security features, ergonomics and functionality. The company also makes a line of patent-pending products for the collection and removal of confidential documents for shredding or recycling. For more information, visit http://www.GoBoxie.com.