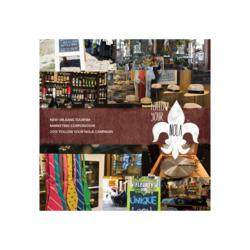 Those who think only of the French Quarter and Bourbon Street when they think of New Orleans are about to learn so much more about NOLA from our campaign," said Mark Romig, President and CEO of New Orleans Tourism Marketing Corporation.
New Orleans, LA (PRWEB) May 16, 2013
"Follow Your NOLA," a national leisure tourism campaign for New Orleans, has been launched by the New Orleans Tourism Marketing Corporation (NOTMC). The campaign illustrates the rich culture, history, and music that runs deep in New Orleans, known by locals as 'NOLA.'
"This campaign invites visitors to experience New Orleans in many areas of the city," said New Orleans Mayor Mitch Landrieu. "As one of the fastest growing cities in America, we want to encourage our guests to experience not only the historic French Quarter, but also our unique neighborhoods, our bustling downtown, and our cultural arts both on the street and in our museums."
The NOTMC Board with President and CEO Mark Romig began the process by charging agency of record Dentsu America with creating, developing, and executing a campaign strategy across paid, earned and owned media, including TV, digital and social. The campaign was created by Dentsu America in collaboration with its sister company 360i.
According to 360i President Sarah Hofstetter, "The creative concept was driven by the demand to re-position New Orleans and play up its strength as a real and authentic cultural destination. In fact, the campaign launch coincided with the end of Jazz Fest to tie back to the city's musical roots."
The television and digital execution centers around the iconic fleur-de-lis as one's compass guiding them on a journey of discovery through New Orleans. Prospective travelers and families are encouraged to "live like a local," exploring what's beyond preconceived notions, to uncover the city's vibrancy, cultural goodness, music and more.
"Those who think only of the French Quarter and Bourbon Street when they think of New Orleans are about to learn so much more about NOLA from our campaign, " said Mark Romig, President and CEO of NOTMC. "Follow Your NOLA" symbolizes the city's renaissance, her mystery, her adventures, and her fun in every corner of the city."
NOLA is captured in her truest form in the campaign's television and internet video, directed by Saville Productions' director Rick Mereki. His films, 'Move', 'Eat', and 'Learn' have garnered editorial acclaim, receiving 25 million views on digital video channels. The thirty and fifteen second 'Follow Your NOLA' spots feature an exciting montage of beautiful fleur-de-lis images alongside New Orleans locals, artists, and icons. The legendary New Orleans piano player Professor Longhair in his song "Big Chief" sets the cadence for the spot and provides an emotional tie to the city's musical roots.
The commercials are airing via broadcast television and digital video in a selection of fly and drive markets, targeted to cities with high numbers of travelers interested in a trip to New Orleans. Louis Armstrong New Orleans International Airport officials were consulted to gain insights into travel trends and determine key cities with direct routes to New Orleans.
Targeted fly markets include Baltimore, Houston, Atlanta, Denver, Kansas City, Nashville, Milwaukee, Charlotte, Dallas, and Tampa.
Drive markets include the Louisiana cities of Lafayette, Baton Rouge, and Shreveport; Alabama cities Birmingham and Mobile; as well as Panama City, FL; Houston, TX; Jackson, MS; and Memphis, TN.
360i and New Orleans-based Skuba Design collaborated on the new interactive website, with 360i leading design, discovery, user experience, and information architecture, with Skuba Design as developer. Through use of an interactive map on a new experiential website, followyournola.com, a compass helps travelers discover New Orleans' architecture, historic sites & homes, museums, neighborhoods, parks & squares, riverfront, and streetcars and tours, all divided into seven different categories with labels such as 'Follow Your Fun' and 'Follow Your Fire.' Additionally, NOTMC was invited to join Google's "Glass Explorers" program and will integrate Google Glass into the campaign later this year and into 2014 through music events and live activations to showcase all the city has to offer.
Also under Dentsu America's lead, local New Orleans agencies are part of NOTMC's integrated marketing. FSC Interactive is activating the social media campaign via the brand's Facebook and Twitter communities, as well as the local culture blog GoNOLA.com. Dustin W Design is providing digital ad production including interactive, motion graphics, and animation services. Spears Consulting Group is coordinating all niche multicultural media and event activations.
New Orleans has experienced tremendous growth in tourism over the last several years, helping create jobs and additional economic impact, especially for small and medium size businesses.
According to a recent University of New Orleans Hospitality Research Center study, commissioned by the New Orleans Convention and Visitors Bureau and NOTMC, more than 9 million visitors came to the city in 2012, spending more than $6 billion. The "Follow Your NOLA" campaign is designed to build on that past growth and position New Orleans for more job creation and visitor spending in the years to come.
About New Orleans Tourism Marketing Corporation
NOTMC promotes the city as a leisure tourism destination throughout the year. Annually, NOTMC's marketing campaigns include strategic print, broadcast, and Internet advertising and public relations. Web sites: http://www.NewOrleansOnline.com; FollowYourNOLA.com; GoNOLA.com; NewOrleansMuseums.com; RadioFreeNeworleans.com; Facebook.com/NewOrleansOnline; Twitter.com/visitneworleans; YouTube: http://www.youtube.com/user/gonolatv