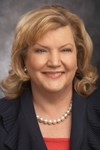 An efficient and concise dealmaker, Jan really takes time to understand her clients and their needs. It's wonderful to see her honored for her hard work. We congratulate her.
Dallas, TX (PRWEB) May 14, 2013
Haynes and Boone, LLP Partner Jan Sharry has been selected as the 2013 Advisor Dealmaker of the Year by the Dallas Business Journal's M&A awards, which recognizes the region's top M&A deals, dealmakers and the best transactions in North Texas.
Sharry also served as lead counsel in connection with the sale of a controlling interest in Service King Collision Repair to a private equity fund managed by The Carlyle Group, which was selected as the 2013 Large Deal of the Year.
In the past year, in addition to the Service King transaction, Sharry participated in more than a dozen transactions with an estimated value of more than $1 billion. Sharry's representations also included:

American Airlines: Sharry advised American Airlines in its 12-year Capacity Purchase Agreement (CPA) with Republic Airways Holdings, the first large regional jet service deal of its kind in American's history. The agreement will allow the carrier to offer more flights at the right intervals throughout the day in key markets while providing more opportunities for customers to travel in the first class cabin to key business markets.
Rise Energy: Sharry was part of the Haynes and Boone team that advised Rise Energy Partners, LP in connection with its sale of interests in various oil and gas producing properties offshore southern California to Memorial Production Partners LP for a purchase price of about $271 million.
Matador Resources Company: Sharry represented Matador Resources Company, an independent oil and gas company, in its initial public offering of $178.6 million of common stock, including shares sold by the selling shareholders.
"Jan has earned a strong reputation as a deal maker and rightfully so," said Terry Conner, Haynes and Boone managing partner. "An efficient and concise dealmaker, Jan really takes time to understand her clients and their needs. It's wonderful to see her honored for her hard work. We congratulate her."
Greg Samuel, co-chair of Haynes and Boone's Capital Markets and Securities Practice Group, noted that Sharry "is known as someone who can bring difficult parties to the table to negotiate a 'win- win' deal" and "implements strategies and documentation within transactions in an effort to accomplish the real goals of her clients."
Sharry has 35 years of experience in diverse areas of corporate finance, including mergers and acquisitions, public offerings, private placements, and other securities offerings (including representation in international offerings). Her extensive experience in mergers and acquisitions includes hostile, friendly, and cross-border transactions, as well as acquisitions and sales of assets in the bankruptcy arena.
In addition to her work at the firm, Sharry is on the Board of Trustees of Knox College and serves as an active member in many community organizations. She is currently on the Board of Trustees for the Dallas Women's Foundation, the Board of Directors of the Trinity Commons Foundation and Chairs the Board of Directors of the Dallas chapter of the International Women's Forum. She also has served in a number of capacities with the Dallas Summer Musicals and the Executive Women's Roundtable of the Dallas Chamber of Commerce.
She was honored at the Dallas Business Journal awards ceremony on May 9.
About Haynes and Boone
Haynes and Boone, LLP is an international corporate law firm with offices in Texas, New York, California, Washington, D.C., Rio de Janeiro* and Mexico City, providing a full spectrum of legal services. With more than 525 attorneys, Haynes and Boone is ranked among the largest law firms in the nation by The National Law Journal and has been named a "Top Corporate Law Firm in America" (Corporate Board Member Magazine, 2001-2012).

Working under a cooperation agreement with MMA in Rio de Janeiro. Available by appointment with MMA. Haynes and Boone, LLP and MMA operate as independent firms.