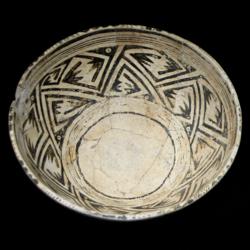 In this program, not only do you get to try your hand at making your own black-on-white pottery, but you learn how archaeologists use the study of ancient pottery to understand people who lived long ago. — Dr. Kari Schleher
Cortez, CO (PRWEB) May 15, 2013
The timeless beauty of ancestral Pueblo pottery reflects the skill and craftsmanship of an ancient people who thrived in the American Southwest for more than a thousand years. The ancestral Pueblo Indians began making pottery in the central Mesa Verde region—unpainted "gray ware"—between about A.D. 500 and 575. By the A.D. 900s, they were producing highly polished black-on-white pottery with vibrant geometric designs.
This summer, the Crow Canyon Archaeological Center invites pottery enthusiasts to make their own replicas of ancestral Pueblo black-on-white vessels and learn about how archaeologists study pottery to learn about people in the past. The new Crow Canyon Archaeology Research Seminar, "A Study in Clay: Ancestral Pueblo Pottery Replication and Experimentation," is set for August 11–17, 2013.
Part pottery workshop, part experimental archaeology, the seminar explores the technological and social aspects of ancient pottery production. Using locally available materials and traditional Pueblo techniques, participants will build, paint and fire their own vessels. They will learn how archaeologists analyze changes in pottery to learn about the people who produced it and how pottery designs may provide important clues to Pueblo social dynamics. The week also includes lectures, three evening programs and informal discussions on current topics in Southwestern archaeology.
The cost is $1,620 (members receive a discount), which includes accommodations and meals at Crow Canyon's campus in Southwest Colorado.
Scholars for the seminar are:
Crow Canyon educator Paul Ermigiotti (B.A., anthropology, Penn State), a potter since the 1970s with a decades-long understanding of black-on-white pottery of the Mesa Verde region.
Crow Canyon Laboratory Analysis Manager Dr. Kari Schleher (Ph.D., anthropology, University of New Mexico), an expert in archaeological pottery analysis.
Gregory Wood (B.F.A., ceramics, Colorado State University), a master of techniques used by ancestral Pueblo potters.
To receive more information or to sign up, call 800-422-8975, ext.146; e-mail travel(at)crowcanyon(dot)org; or visit http://www.crowcanyon.org/archaeology.
About Crow Canyon
The Crow Canyon Archaeological Center is a not-for-profit organization dedicated to understanding and teaching the rich history of the ancestral Pueblo Indians who inhabited the canyons and mesas of the Mesa Verde region more than 700 years ago. The Center is located just outside Cortez, Colo., in an area with one of the densest concentrations of archaeological sites in the world.