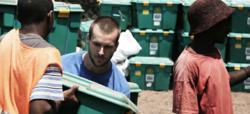 Sarasota, Florida (PRWEB) May 14, 2013
Members of the international disaster relief organization, ShelterBox, have arrived in Uganda to deliver humanitarian aid to families displaced by the worst flooding the country has seen in nearly three decades.
ShelterBox provides humanitarian aid—emergency tented shelter and other supplies, such as stoves, blankets and water filtration systems, among other tools to help families rebuild their lives after losing their homes and possessions following a disaster such as earthquake, volcano, flood, hurricane, cyclone, tsunami or conflict.
A highly-trained ShelterBox Response Team (SRT) is en route to the western Kasese region of Uganda where continuous heavy rains have caused 'the worst flooding since 1976,' according to the country's authorities and media reports.
As a result, several rivers have burst their banks, destroying hospitals, agriculture, roads and bridges. Thousands of families have been left homeless and in immediate need of emergency shelter, blankets and water filtration, as fears of waterborne disease, like cholera, among communities have become pertinent.
"Reports from the field continue to show that numbers of families forced to relocate into camps have continued to rise, even as the rain slowed down slightly over the weekend," said US-based SRT member Eric DeLuca, in Kampala, Uganda.
"Officials are working around the clock to rebuild critical infrastructure, as the local hospital suffered severe damage and dozens of bridges and roads throughout the region have been destroyed."
DeLuca and his team are currently en route to Kasese, where they will assess the situation and needs of the displaced people and respond appropriately.
ShelterBox continues to provide aid to families displaced by conflict in Syria and Myanmar, as well as those impacted by an earthquake in the Solomon Islands.
ABOUT SHELTERBOX USA
Since 2000, ShelterBox has provided shelter, warmth and dignity following more than 200 disasters in over 85 countries. ShelterBox instantly responds to earthquake, volcano, flood, hurricane, cyclone, tsunami or conflict by delivering boxes of aid and other supplies. Each iconic green ShelterBox contains a disaster relief tent for an extended family, stove, blankets and water filtration system, among other tools for survival. ShelterBox's American affiliate, ShelterBox USA, is headquartered in Sarasota, Florida. Individual tax-deductible donations to ShelterBox USA can be made at http://www.shelterboxusa.org or 941-907-6036.
# # #