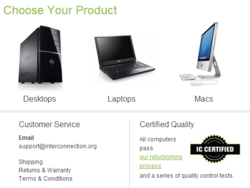 Our refurbished PCs are tested for quality using a six-stage process. We don't use the 'see if it boots and sell it' routine employed by less reputable refurbishers. We are proud of the quality of our machines
Seattle, Washington (PRWEB) May 15, 2013
In order to make critical technology more accessible to nonprofit organizations and underserved communities, Seattle's InterConnection has launched a new online store featuring high-quality refurbished laptops and desktops starting at just $99.
The new online store (http://www.interconnection.org/store) enables US nonprofits to easily choose from a range of name brand PCs that ship pre-installed with Windows 7 Pro & Office 2007. All computers on the site are covered by a 90 day warranty and can be easily restored to factory condition without an installation disc.
InterConnection refurbishes computers at their Seattle facility to a standard they call "IC Certified", whereby all components are thoroughly tested and the machine has passed a series of quality control checks. This commitment to quality attracted Tech Soup Global, the nation's largest provider of technology to nonprofits and libraries, who have been using InterConnection as their sole nonprofit refurbishing partner for the past three years.
"Our refurbished PCs are tested for quality using a six-stage process. We don't use the 'see if it boots and sell it' routine employed by less reputable refurbishers. We are proud of the quality of our machines," said Oso Martin, InterConnection's Production Supervisor.
Nonprofits that purchase from the InterConnection Online Store do more than just reduce their own technology costs, they also reduce their environmental impact. According to EPA estimates, reusing a computer is 30 times more green than purchasing a new PC. EPA data suggests that every refurbished computer prevents the creation of 30 lbs of hazardous waste, 77 lbs of solid waste, 147 lbs of polluted water and 1,333 lbs of CO2 emissions.
Since being founded in 1999, InterConnection has shipped computers and provided technology services to nonprofits and nongovernmental organizations in forty nations, fulfilling the organization's mission of support for groups in need. To date, their efforts have impacted over 250,000 people.
"We've helped thousands of organizations get connected to technology, allowing them to accomplish their mission and improve their community. The online store is a big step towards making technology accessible to all helping struggling nonprofits struggling to make a difference," said Charles Brennick, InterConnection's founder.