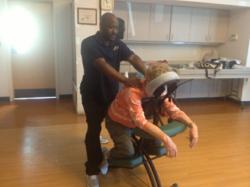 Michael Danzy said at first he wasn't sure about working with seniors. But by the end of the session he knew he had made a difference.
Danbury, CT (PRWEB) May 16, 2013
Students of the massage program at Ridley-Lowell Business & Technical Institute treated participants from the Danbury Senior Center to free 10-minute massages on May 1 at the center's Main Street location.
Sixteen seniors got a nice dose of relaxation and a healing touch while students worked on honing their skills as they prepare to wrap up their programs on June 26. "It was a field trip for practice," said Irene Mardal, lead massage instructor at Ridley-Lowell's Danbury campus on 24 Shelter Rock Road, who organizes these outings. The massage program is nine months long and includes Anatomy and Physiology, Kinesiology, Business and Ethics for Massage, Sports and Medical Massage, and more.
"Touch is so important for someone's overall health," Mardal said. "It's literally vital for your life."
The participants were shown how to sit in massage chairs so the students could work on their backs, necks and spines. One student, Amparo Pino describes giving a good massage as when the heart, mind and body are working together. "It's very gratifying and rewarding work." Pino said.
"I was very comfortable to be able to provide that," said student Miriam Avila. "Many of (these seniors) never get massages." Classmate Jaclyn Neumuller said she "liked providing safety".
"I was very excited," said Neumuller. "The seniors said my hands were so warm."
"It's nice to give someone that one-on-one attention," said Angela Bayer, another of the six students offering massages. Bayer worked on a senior's hands and arms. "It's amazing how they just opened up," she said.
Michael Danzy said at first he "wasn't sure about working with seniors". But by the end of the session, he knew he had made a difference. Several students remarked on how appreciative and trusting the recipients were.
"These are robust, active seniors," Mardal said. "It's wonderful." Everyone can benefit from healing hands, even infants and animals. As Mardal explains, these practice field trips give students a higher level of confidence as they experience working on different bodies and using various massage modalities (such as Asian arts, acupressure, energy work, hot stones, and others). Graduates are able to take the state exam, and upon passing, will be licensed through the State of Connecticut.
Anyone from the general public may take advantage of the Student Massage Clinic at Ridley-Lowell, offering full-body massages for good rates and open for appointments on Friday mornings and Wednesday evenings. For more information please call 203-797-0551.
By Olga A. Dahlstrom