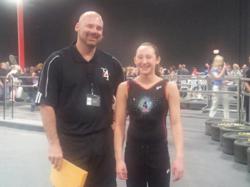 she came up un-noticed until the post season, and now everyone knows her name
Fitchburg, Wisconsin (PRWEB) May 16, 2013
Saturday May 4th will not be a date that Brianna Slonim will soon forget, it's the day she went for anonymity to being a nationally ranked gymnast. Slonim competed at the Western National Championship in Sacramento California representing not only her home gym of Gymfinity Gymnastics but representing Region 4: a seven state region in the USA-Gymnastics Junior Olympic program comprised of Wisconsin, Minnesota, Nebraska, Missouri, Iowa and North and South Dakota. The championship is the final meet for gymnasts at the 9th level of competition in a 10 level system. The meet not only awards individual gymnasts who have qualified from the region championship but awards the region team, comprised of representatives from regions 1-4. This is gymnast Brianna Slonim's first trip to the Western Championship, Gymfinity returns after last year taking current High School champion Lexi Alt to compete in Boise, Idaho.
"We came out a few days early to train and get used to the setting for the meet" reports J. Orkowski Slonim's coach "Bri was right on task. We trained at Byer's (the meet host) gym in Roseville Friday and then took our turn at the meet on Saturday." Slonim started the meet on the bars, an event on which she had been training hard. She did well and scored a 9.2, a respectable showing but not enough to be the top. On balance beam, Slonim performed very well, "It's not her strongest event, but she had put a lot of time and effort into making it better, and when she hits, she hits big." Slonim's 9.5 placed her in 4th place overall. On floor exercise she performed a strong routine but her score did not place her in the top 10. On her strongest event, vault, she holds the Regional Champion title where she scored a 9.45. At the Western Meet she scored a 9.575 and took her place as the 4th best in the meet for her age group. Overall Slonim placed 7th in the All Around and was the highest ranked all arounder in the meet from Region 4. "Among the 5 other Region representatives Bri had a great meet; she stayed focused and did what she trained to do," tells her coach. "I am so proud of Bri, she came up un-noticed until the post season, and now everyone knows her name. I was really proud though as she encouraged her region mates through difficult results. She cheered for every kid and on the awards stand she was the only one clapping for ever gymnast regardless of the team or rank. That is after all what we want from our athletes. That trait supersedes great gymnastics in my book."
Slonim has been at Gymfinity gymnastics since the age of 4. She has had a tough time of late suffering from a shoulder injury, a back injury and elbow surgery over the past few years. She effectively sat out the better part of last season but returned this year to a full season and great results. Her all around score of 37.475 is her highest score throughout her career.
Brianna Slonim now returns to Gymfinity to train for her next competitive season where she will compete in Level 10 Junior Olympics. Gymfinity is a recreational and competitive gymnastics training center in Fitchburg Wisconsin. They have many top gymnasts in the state and region and also offer programs for children's fitness, trampoline and tumbling and Parkour. Gymfinity is at 608-848-FLIP or online at Gymfinity.com