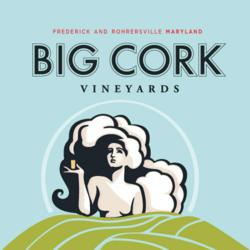 Rohrersville, MD (PRWEB) May 15, 2013
Big Cork Vineyards, the second largest vineyard in Washington County, Md., is excited to announce they have been selected to share their fine, handcrafted wines at a wine tasting party during the 2013 Cannes Film Festival. The party is exclusive to film festival organizers attending Cannes and will take place Tuesday, May 21 from 7 to 9 p.m. The party is sponsored by FilmFestivals.com in association with FashionTV Red Carpet Lounge, IndieFlix, MusiVision Films, Emotion Film Factory, Champagne 1er cru Croix d'Irval and Seriously Inc.
"We are thrilled to share our wines with festival organizers and represent Washington County during the Cannes Film Festival," says Big Cork Vineyards President & CEO Randy Thompson. "Big Cork Vineyards' goal has always been to provide unforgettable wines that encourage people to unwind, grab a glass and celebrate the best things in life. We can't think of a better opportunity for festival organizers to do just that during the hectic film festival circuit."
Bruno Chatelin, board member of the European Film Academy, advisory member of the International Film Festival Summit and the CEO of FilmFestivals.com, invited all guests to bring their favorite wines to share — something they like or something that grows in their country. Tracie Hovey, Vice President of the Maryland International Film Festival and Business Development Director for Power Marketing, the firm responsible for Big Cork Vineyards' advertising, is attending the festival and encouraged Big Cork Vineyards to supply their varietals during the party. Guests of the wine tasting party will sample four of Big Cork Vineyards' signature wines: Chardonnay, Traminette, Vidal Blanc and Late Harvest Vidal Blanc.
Big Cork Vineyards currently sells and samples the four varietals at community events and wine festivals throughout Maryland. Wines will also be available this summer at local wine stores. A 9,600 sq. ft. sunlit tasting room and farm winery production facility are set to open in the spring or summer of 2014.
About Big Cork Vineyards:
Nestled on 100 rolling acres in Maryland's Pleasant Valley, Big Cork Vineyards is a local legacy in the making. The winery is dedicated to producing 13 fine varietals and providing an unrivaled tasting experience. No expense has been spared to ensure that Big Cork's wines capture the soul and stature of their grapes, their vineyards and their winemaker. For additional information, contact Communications Specialist Krista Scarlett at Krista(at)PowerMarketing(dot)com, or visit the winery's Facebook page.