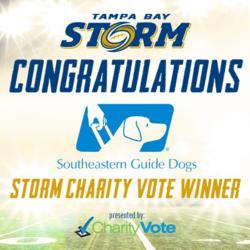 A great big THANK YOU to everyone who helped us win the Tampa Bay Storm Charity Vote!
-Southeastern Guide Dogs
Tampa, FL (PRWEB) May 21, 2013
The Tampa Bay Storm hosted a contest using Celestar Corporation's Facebook app, CharityVote. The contest began on Saturday, May 4 and concluded on Monday, May 13. During the contest period, the buzz about the contest spread across Facebook, Twitter, and other social media networks. Fans were encouraged in a friendly and exciting way to vote for the charities to determine a first, second, and third place winner.
The charities played a role in encouraging fans by posting to the social media networks.
"Pretty please go vote for us! We are in second place currently, so go vote now and ask all your friends & family to do so as well. And if they don't, bother them until they do. :-) The contest ends tonight at 11:59 pm." -- Southeastern Guide Dogs
"Help us win the Tampa Bay Storm CharityVote contest. The Storm is donating $5,000 to three charities - the one with the most votes wins $3,500! Please like the page, Vote for Exalted Warrior Foundation now at http://www.tampabaystorm.com/charityvote and then share with all your friends. Thank you for creating such great community Tampa! -- Exalted Warrior Foundation
Southeastern Guide Dogs received the most votes in the Storm CharityVote contest. As a result, this great Tampa Bay-area charity will receive a $3,500 donation during the May 25 Storm home game vs. Philadelphia.
Wounded Warriors in Action finished second and will receive a $1,000 donation, and Exalted Warriors Foundation third, good for a $500 donation.
Congratulations to all three great charities!