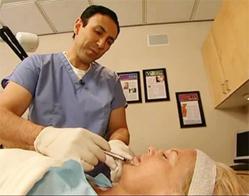 Los Angeles, CA (PRWEB) May 14, 2013
According to an April 29, 2013 Miami Herald article, titled "Do Injectable Fillers Make You Look Unnatural?" (Go to goo.gl/QNchv), injectable fillers such as Restylane, Juvéderm, Radiesse and Sculptra are the treatments of choice for cosmetic dermatologists to address static wrinkles. These treatments can take years off a person's facial appearance immediately. However, a major concern about these products that many patients have is whether the treatments will alter their looks beyond recognition.
"While these treatments can provide lasting benefits to one's appearance," says Dr. Simon Ourian, Medical Director of Epione Beverly Hills, "there is one proviso: it is essential to choose a cosmetic dermatologist with the right experience. The best advice for any prospective patient is to prepare correctly by conducting thorough research beforehand."
First, according to the article, it is important to find a reputable and properly qualified doctor. Ideally, it is advisable to search for a practitioner who has the Black Diamond Allergan Plaque displayed. This award is given only to the top percentage of physicians injectors in the U.S. and it's a significant indication that they have the requisite experience. It is relevant experience that counts, so it is recommended to avoid medical practitioners who do not have a background in aesthetics.
The article recommends that first-time dermal filler patients opt for a hyaluronic acid based filler, such as Juvéderm or Restylane as the results are reversible and temporary. The idea being that a patient should be happy with these results before deciding to use a long-term filler, such as Radiesse or Sculptra.
"Many patients fail to keep their expectations in check," says Dr. Ourian. "This is a common mistake that should be avoided to prevent disappointment (and wasted time and money). It is imperative that patients have a realistic expectation of the procedure before receiving any treatments."
Dr. Ourian has been a pioneer in laser technology and non-invasive aesthetic procedures including Restylane, Juvéderm, Radiesse and Sculptra. These treatments are used for the correction or reversal of a variety of conditions such as acne, acne scars, skin discoloration, wrinkles, stretch marks, varicose veins, cellulite, and others. More information about dermal fillers can be found on Epione's website.