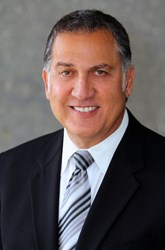 Having Fred on board as a driving force behind our mortgage efforts will prove an invaluable asset in implementing strategies that provides a superior product set to the mortgage industry.
Woodland Hills, CA (PRWEB) May 15, 2013
Peak Finance Company, a comprehensive source for mortgage loan products based in Woodland Hills California and part of the Peak Corporate Network entities, announced today the appointment of Fred Grant as SVP, Director of Mortgage Lending. In this role, Fred will oversee operational and underwriting efforts for its conventional and government mortgage division and private lending units. Additionally, Fred will also evaluate and implement structure changes to qualify the company for FHA Direct Lender status, as well as utilize established mortgage industry contacts to attract institutional investors able to contribute to Peak Finance Company's expansion into additional markets. Fred's experience spans more than 30 years of involvement of all facets of real estate lending including originations in retail, wholesale bulk loan acquisitions and secondary markets, correspondent lending, private lending, as well as mortgage industry-related mergers and acquisitions.
According to Gil Priel, co-founder, Managing Director, and Principal of the Peak entities, "Fred has successfully led mortgage operations through a variety of cycles possessing vision, poise and impressive leadership attributes. His experience will add additional depth to our management team. Fred's arrival represents Peak's ongoing plan to strengthen its already seasoned management team to continue recognition of the Peak brand as a comprehensive real estate service provider." According to Priel, "having Fred on board as a driving force behind our mortgage efforts will prove an invaluable asset in implementing strategies that provides a superior product set to the mortgage industry."
Fred is equally as enthused at taking the helm at Peak Finance Company. He characterizes the appointment as an "exciting opportunity" to maximize company revenue through leveraging the full gamut of resources available through the network. "It's a great time to be in the mortgage industry, and Peak Finance Company has a complete product menu to meet the needs of the market head-on. Its access to the full resources the Network has at its disposal truly sets it apart from the rest," he continues, "and is a source of profitability I look forward to developing with the team."
Fred is a recognized mortgage banking and real estate industry professional, having successfully led financial operations through a variety of economic conditions. Prior to joining Peak Finance Company, Fred has run his own mortgage company, in addition to holding top level positions in companies overseeing loan originations, correspondent lending, as well as heading a company specializing in mergers and acquisitions in the real estate, construction, and the mortgage banking industry. Fred is a Licensed Real Estate Broker in CA and NV and Founder of the Financial Services Institute of Mortgage Lending, one of the first mortgage consultant schools licensed in California. As a published author, Fred also is a licensed FHA, Direct Endorsed Underwriter and has earned his B.S. in Economics and Finance and Graduate Degree in Business Management.
Peak Finance Company is one of the entities in the Peak Corporate Network headquartered in Woodland Hills, California. In addition to providing residential financing, the Peak Corporate Network entities offer real estate brokerage and escrow services, short sale services, loan servicing, 1031 exchange services, insurance, trustee work and foreclosure services. For more information, visit http://www.peakcorp.com.
The Peak Corporate Network is a brand that represents a group of related separate legal entities, each providing its unique set of real estate services.