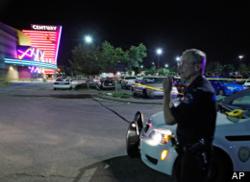 It's important to create a historical record of what occurred.
(PRWEB) May 15, 2013
Considering the horrific events of last year's shooting at the Aurora Theater in Colorado, last week the city council approved an outside review of the city's fire and police response according to the Denver Post. As stated by police Chief Dan Oats, "It's important to create a historical record of what occurred." The value gained from the analysis should server as a case study for making all public venues a safer place.
A key component that would greatly assist in this analysis would be the use an access to video security camera technology. Theaters need to follow the lead that other businesses and entertainment venues have taken to better secure and monitor their customers. Most major facilities that support a large gathering of people such as ballparks, stadiums, hotels, and malls have not only recognized the need to secure and protect their customers, but also to manage the whereabouts of both individuals and larger flow of groups. These businesses recognize that at any given time they will have a large influx of various individuals attending their property. As such they need to discretely and easily monitor the movement of individuals to protect their safety.
One of the primary means that stadiums, hotels, and malls use to oversee the activity of individuals is through the use of video surveillance. Video surveillance systems popularly known as CCTV (Close Circuit TV) have made huge advances during the last five years by taking advantage of digital technology. Today's camera systems can detect certain unusual movements, activity in restricted areas, and even have cameras automatically zoom into areas were there may be peculiar activity. In addition, these systems utilize the latest digital and communications technology. CCTV systems are managed through either a standalone DVR (Digital Video Recorder) or a NVR (Network Video Recorder). The CCTV DVR/NVR utilizes a powerful processor that allows simultaneous viewing of live video, video recording and playback. The recording can be performed on a continuous basis, or triggered by motion detection. In addition, accessing the video images can be viewed at an onsite monitor, via a PC through an internet connection, or even wirelessly by means of a smart phone such as an iPhone, BlackBerry, etc…
A properly implemented and manned surveillance system with the correct security cameras placed in key areas such as at exit doors, theater entrances, stairwells, and cameras covering the parking lot can greatly assist first responders to quickly identified and manage events as they are happening. Such events as an exit door being propped open, motion detection and video alert of someone going in and out of an exit, extra ordinary activity in the parking lot, etc… can guide first responders to critical areas.
Considering the recent events, the forward thinking by the Aurora community leaders to conduct this analysis will make them better prepared for future events. But, just as important, the information and knowledge gained from the "after-action" analysis should be shared to help and guide all first responders throughout the country to be better equipped for dealing with these horrible events.
The Security Product Depot is an established online provider of physical security products and security solutions. They are committed to offering the broadest array of CCTV camera system technology, door hardware, locks, and safes for securing government facilities, municipalities, schools, as well as commercial businesses and residents.