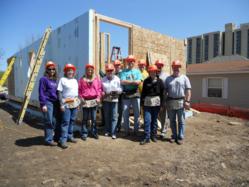 Coon Rapids, MN (PRWEB) May 16, 2013
As part of the firm's mission statement, BGS recognizes the value of a meaningful community, professional and civic life. On May 10th 2013, for the 11th year, the firm sent attorneys and staff to participate in a local Twin Cities Habitat for Humanity project.
This year, the staff and attorneys participating helped with construction of a new home in North Minneapolis, at 424 31st Ave. N. They split into groups that worked on insulating and framing the new construction. This was the first week of the construction of this new home.
Habitat for Humanity indicated that this was a special project as the home is their first ever Zero Net Energy Home. A Zero Net Energy Home is a building with zero net energy consumption and zero carbon emissions annually. The amount of energy provided by on-site renewable energy sources is equal to the amount of energy used by the home.
Helping out with the framing and trimming were the firm's project coordinator and Corporate Attorney Daniel Ganter, Family law Attorney Elizabeth Schading, Government law Attorney Scott Lepak, Real Estate Attorney Timothy Erb, Real Estate/Wills Paralegal Sandy Nelson and her husband Ken, I.T. Manager Brian Harvison, and Legal Administrative Assistants Sarah Thies, Tracie Davis, and Jean Schatz.
The weather cooperated with a great day for being outdoors and volunteering in an area of need in the community. The team was pleased with their progress and looks forward to the opportunity to help again next year.
Barna, Guzy & Steffen is a full-service law firm based in Coon Rapids, MN. The firm is celebrating its 75th anniversary this year. To learn more about the firm, visit http://www.bgs.com.