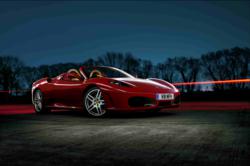 Absolutely Canvas has provided incredible quality, stunning prints, service is personable and quick to help.
Niagara Falls, Ontario (PRWEB) May 21, 2013
Damian Hock's take on things is a mixture of automotive and landscape photography. He creates images of cars from past and present with perhaps a little more essence towards the sort of aesthetics that offer a real wow factor.
"The way you visualize an image comes down to your personal mindset and what you want to think of it. There can never be any right or wrong on personal preference, this is what makes us individuals, but at the heart of any form of automotive art there will always be a reason for its being." - Damian Hock.
Damian use of trick photography, design and editing skills, he creates images that are truly amazing… Visual wonders that create emotion.
Damian's work can be purchased as canvas prints online at the Absolutely Canvas website here.