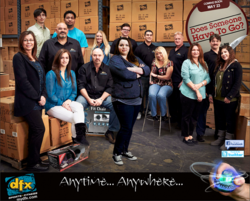 "It was an incredibly eye-opening experience for our company,"
Farren Mataele, CEO
Anaheim, CA (PRWEB) May 15, 2013
DFX Sports and Fitness, premiere manufacturer of the popular and innovative Powerball Gyroscope hand held exercise ball, will be featured on two episodes of Fox's newest reality show, "DOES SOMEONE HAVE TO GO?," premiering Thursday, May 23 (9:00-10:00 PM ET/PT).
In the new six-episode series, "DOES SOMEONE HAVE TO GO?" the boardroom doors get blown wide open when employees are given the power to make some tough decisions. Frustrated bosses will hand over the reins of their companies to the employees, offering their respective staffs a chance to make changes in the workplace – even if it means letting co-workers go. Each participating office will have its own set of issues, which will force them to take a hard look at what's plaguing their workplace and answer the toughest question of all: Does someone have to go?
"It was an incredibly eye-opening experience for our company," said Farren Mataele, CEO of DFX Sports and Fitness. "The show empowered our employees to focus on challenges and issues from the ground up, including ownership and themselves. There was lots of drama, working relationships were strained to the breaking point, and nobody – not even my father who founded the company – escaped the scrutiny. In the end some very difficult decisions were made and we emerged from the show a stronger company and happier place to work."
DFX Sports and Fitness is based in Anaheim, California. In addition to manufacturing the Powerball Gyroscope, they also develop a full line of sports and fitness products including Sports Pro Gyro, Ironpower Gyro, Dynamax and a full line of massage and healthy living brands like Body Secrets massage rollers. For more information on DFX Sports and Fitness and its unique DFX Gyro Ball and other fitness gyroscopes, go to mydfx.com.
"DOES SOMEONE HAVE TO GO?" is produced by Endemol USA ("Big Brother," "Steve Harvey," "Wipeout"). Cris Abrego and Fernando Mills serve as executive producers. "Like" "DOES SOMEONE HAVE TO GO?" on Facebook at https://www.facebook.com/DoesSomeoneHaveToGo.