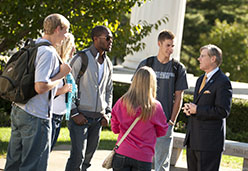 The mentors work closely with faculty and staff to make sure the seminar students are getting the academic, social, emotional, physical and spiritual support they need to do well in college.
Fulton, MO (PRWEB) May 15, 2013
Recent assessment results reveal historic ranking by Westminster College freshmen in evaluation of the liberal arts college's Westminster Seminar. Westminster freshmen ranked the experience historically high in the areas of improved study strategies, improved connections with faculty, improved connections with peers, improved knowledge of academic service and improved managing of time and priorities.
Following the fall seminar semester, Westminster College students are asked to complete a comprehensive national evaluation survey, the First Year Initiative (FYI) assessment, which is used by many other private and public institutions.
"The overall results indicate that Westminster is continuing to provide a quality first-year experience for freshmen students," says Dr. David Jones, Westminster Assoc. Dean of Faculty, who administers the Westminster Seminar.
This year 78.5% of all Westminster freshmen completed the survey. 56% of the respondents were male and 44% of them were female.
Data from the National Center for Public Policy and Higher Education confirms that nearly 60% of first-year college students are not ready for post-secondary studies.
Westminster College, with campuses in Fulton, MO and Mesa, AZ, uses the Westminster Seminar to address issues of higher academic expectations, time management and financial and personal decisions through its nationally recognized Westminster Seminar.
The overall retention rate for Westminster students is 84% as compared to an average of 65% for all Missouri four-year institutions, a 73% average for American public four-year institutions and 74% for American private four-year institutions.
All freshmen are required to take the 3-hour Westminster Seminar, which provides them with the critical thinking, communication and research skills necessary to succeed at Westminster. The program has been acclaimed for its effectiveness.
"The Westminster Seminar Program offers students a strong and supportive start to their college experience," says Anna Bohn, a senior from Kirkwood, MO, who has worked as a head mentor in the program. "The program offers a comprehensive support system to guide Westminster students through the first shaky steps of their college careers and equips them with the skills to succeed far beyond graduation."
Other areas where Westminster freshman ranked the program significantly higher than last year's program are improved academic and cognitive skills, increased out-of-class engagement and improved knowledge of campus policies.
Bohn explains, "In addition to taking one or more classes with fellow seminar group members, new students attend a weekly class led by the mentors to address challenges unique to college students. They learn about Westminster's four values of integrity, fairness, respect and responsibility in the context of personal relationships, academic honesty and global citizenship."
Westminster seminar student mentors are also evaluated, and this year's scores were historically high on all levels, including helping to teach, discussing progress counseling, being a positive role model and upholding and representing the missions and values of the College.
"Students have two older student mentors who survived and thrived in their first year and beyond," says Bohn. "The mentors have been through all the homesickness, culture shock and surprising new challenges that come with the first semester of college and they are the students that have learned to strike a balance between academia and the social scene. The mentors work closely with faculty and staff to make sure the seminar students are getting the academic, social, emotional, physical and spiritual support they need to do well in college."
Organized around student interests, the Westminster Seminar groups are integrated by common objectives and shared readings. The seminar is designed to help students read analytically, think critically and communicate effectively and includes the processes, tools and systems for scholarly inquiry. Students work closely with a faculty member, upper-class student mentors and a small group of other new students. Each seminar leader serves as an academic advisor to the students in their seminar until the students declare a major.
"Obviously, Westminster's strong approach to engaging and nurturing students from the very beginning to ensure they succeed plays a significant role in their overall satisfaction during their four years here," says Westminster President Dr. George B. Forsythe.
Founded in 1851, Westminster College is one of the top liberal arts colleges in America, according to all major educational ranking firms including U.S.News & World Report, Forbes magazine, The Princeton Review and Washington Monthly. National high school counselors recognize Westminster as one of the top two liberal arts colleges in Missouri to receive the best education. This selective college for men and women operates on two campuses, one an 86-acre residential campus in Fulton, MO, and a second Southwestern urban campus in the vibrant downtown of Mesa, AZ. Westminster is a challenging academic environment where students are educated to lead and inspired to achieve. Ninety-five percent of Westminster graduates start their first job or enroll in graduate or professional schools within six months of graduation.
To learn more about Westminster College, people can visit the College web site at http://www.westminster-mo.edu.
###