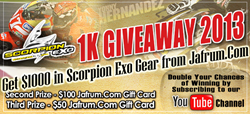 "It's nice to see riders wearing gear that is available to consumers, because it makes you feel part of the experience and part of the motorsports family."
Charlotte, NC (PRWEB) May 20, 2013
With the Red Bull United States Grand Prix, featuring the MotoGP World Championship just around the corner, Jafrum International is helping fans dress in some of the same gear motorcycle riders wear with their premiere Scorpion Exo Giveaway 2013.
One lucky winner will receive $1,000 to choose Scorpion Exo Gear from Jafrum.com. Second place will win a $100 Jafrum.com gift card and third place will receive a $50 gift card.
"It's nice to see riders wearing gear that is available to consumers, because it makes you feel part of the experience and part of the motorsports family," said Ellen Newell, video production manager at Jafrum International.
Rumana Bai, vice president of Jafrum, agreed with Newell and said she thinks it is great for the consumers to be able to buy some of the same products the riders are wearing. Bai pointed out that some of the products might not yet be available to the public.
One piece that can be chosen is Scorpion's EXO-R2000. Released in Fall 2012, but not available until Spring 2013, the EXO-R2000 represents a step forward in performance racing helmets. Built with Scorpion's Thermodynamic Composite Technology composite shell construction, the helmet is lightweight and designed with racing in mind.
Developed with input from numerous MotoGP riders, the R2000 was tested on the track as well as in the lab.
The tear-drop shell design makes the helmet more aerodynamic, while the aero-tuned ventilation system produces generous airflow and circulation through six intake ports located across the front of the helmet. These ports force cool air in while ten exhaust vents maximize the movement of hot air out of the helmet.
Built for optimum comfort and fitment with four shell sizes and six EPS liners, the R2000 is setting a new standard for quality and value in a helmet.
Three riders will be wearing the EXO-R2000 when they compete in the Red Bull U.S. Grand Prix, featuring the MotoGP World Championship in July. Those riders are Yonny Hernandez, Hector Barbera and Alvaro Bautista. After the Red Bull Grand Prix of the Americas race classification, Hernandez is 15th, Barbera is 18th and Bautista is eighth.
Hosted at Mazda Raceway Laguna Seca in Salinas, California, The Red Bull U.S. Grand Prix gives the raceway its largest spectator attendance of any race held at that location.
Spanning over three days, the race challenges motorcycle riders on one of the most technically-demanding race tracks on the MotoGP schedule.
MotoGP is the foremost motorcycle racing World Championship that consists of an 18-race series in 13 countries in four continents.
Now in its 65th year, MotoGP is the oldest motorsports championship in the world and pits skilled riders from ten nationalities against each other.
Jafrum International was launched in 2002 and is a leading supplier of motorcycle gear. To enter the giveaway, contestants must fill out a form on Jafrum.com. The contest ends June 3.