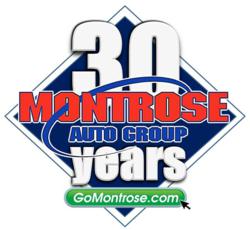 Fairlawn, OH (PRWEB) May 16, 2013
Montrose Ford in Fairlawn will once again participate in the Ford Motor Company's "Drive One 4UR School" program this Saturday, May 18th in support of Revere High School located in nearby Richfield, Ohio. The Ford initiative rewards area high schools for introducing parents and supporters to the all-new lineup of Ford vehicles through product demonstration test drives.
Montrose Ford in Fairlawn, part of Northeast Ohio's Montrose Auto Group, marks their third year of participation alongside Montrose Ford-Lincoln in Alliance in supporting the fund raising efforts of local high schools through this program. Since 2011, Ford Drive One 4UR School programs supported by both Montrose Ford dealerships have combined to earn over $45,000 for Fairlawn and Alliance area high schools.
Licensed drivers aged 18 and older wishing to participate in the program can visit Montrose Ford in Fairlawn at 3690 Medina Road in Fairlawn between 9am and 4pm on Saturday, May 18th. A brief registration followed by a test drive in one of the current model year Ford vehicles available at Montrose Ford is all that is required to earn Revere High School funds from the Ford Motor Company.
Montrose Ford in Fairlawn is committed to being a responsible member of the Northeast Ohio communities that it has proudly served since 1983.