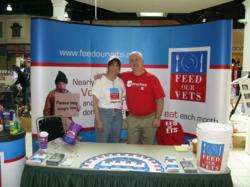 Utica, NY (PRWEB) May 15, 2013
Feed Our Vets, a nonprofit organization dedicated to eradicating hunger among U.S. veterans and their families, received 4,250 pounds of donated food from the first Canstruction project ever held in Central New York. Canstruction is an international hunger campaign that holds building competitions around the globe as a way to restock community food banks.
The cans were donated by the community and fashioned into elaborate structures – such as a canal boat and a house with a front porch - by teams from GPO Federal Credit Union, MetLife, Sodexo and Zion Lutheran Church. Each team had to use at least 500 cans, and each project had to be at least eight feet tall. The food was then given to Feed Our Vets for its food pantries, and also to the Greater Utica Community Food Resource, Inc.
"We were honored to be a recipient of this exciting charity event," said Richard Synek, founder and Executive Director of Feed Our Vets. "Canstruction is a very successful campaign calling attention to the hunger needs in our country and meeting those needs in a very fun and creative way. We are grateful to the organizers and the teams that competed on our behalf, and for the platform Canstruction provided us to share the specific needs of U.S. veterans with the public."
Nearly three million American soldiers and their families don't have enough to eat each month. More than 100,000 veterans are homeless and hungry on any given night, and nearly 1.5 million are at risk of becoming homeless and hungry. Synek said the 4,250 pounds of food generated by the Canstruction competition would provide 3,000 meals to veterans and their families.
Founded specifically to reduce hunger among American heroes, Feed Our Vets operates food pantries in Utica and Watertown, and a mobile pantry that distributes food to veterans in underserved rural communities in upstate New York. The organization also partners with food pantries nationwide to make sure that veterans have access to sufficient food for themselves and their families, including offering pickup times designated just for veterans.
About Feed Our Vets: Feed Our Vets is a nonprofit food pantry created to provide nutritious food to United States veterans whose circumstances have left them on the battlefield of hunger. The organization stocks food pantries across the country to feed the more than 130,000 veterans who are homeless or hungry on any given night in America. Feed Our Vets serves not only veterans, but also men and women still enlisted in the military, along with their families. For more information, visit http://www.feedourvets.org.