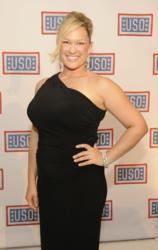 Through my passion for cooking, I'll get to inspire others to show their support for our military heroes. Jennfier Behm
Arlington, VA (PRWEB) May 15, 2013
Jennifer Behm, Season 2 winner of the Fox reality show "MasterChef" will serve as the national spokesperson for the inaugural USO fundraising campaign, Barbecue for the Troops, the USO announced today.
Beginning Memorial Day 2013 and continuing through Labor Day 2013, Barbecue for the Troops will provide an easy way for individuals and organizations to raise money in support of U.S. troops and their families through backyard and community barbecue fundraisers.
As the national spokesperson for Barbecue for the Troops, Behm will combine her cooking expertise and her personal family connection with the armed services to encourage and inspire Americans to fire up their grills in support of USO programs and services that provide morale boosting and critical support to deployed troops, military families, wounded, ill and injured troops and their caregivers and families of the fallen.
"When my brother served in Afghanistan, the USO was with my family every step of the way, so I was happy to partner with the USO last year at the annual USO Gala, where I got to meet so many servicemen and women and thank them for their service. Now, as the spokesperson for Barbecue for the Troops, through my passion for cooking, I'll get to inspire others to show their support for our military heroes, by doing something as simple as hosting a barbecue. I know from experience how important it is to give back to our nation's troops and military families. Our support helps make life a little easier for them. It's what they need and deserve."
"We often find that so many people want to give back to the men and women who sacrifice so much for our country, but they don't know how," said Kelli Seely, USO SVP and Chief Development Officer. "Barbecue for the Troops offers everyone a simple and fun way to say 'thank you'. By hosting a barbecue this summer and raising funds for USO programs and services our troops and their families need, you may be helping provide a deployed troop with a chance to talk to their loved one on the phone, give a military child the chance to watch a DVD of their deployed mom or dad reading them a bedtime story or provide a wounded warrior with the guidance they need to transition into the civilian workforce. These are just a few of the ways the USO is able to impact lives, with the help of the American people."
In addition to making studio appearances and conducting media interviews to rally home-grown barbecue fundraisers across the country, Jennifer Behm will also host a nationwide satellite media tour with USO President and CEO Sloan Gibson on May 23.
To host a barbecue fundraiser, create a fundraising event page at http://www.BBQfortheTroops.org and utilize the many tools and step-by-step resources to help create and deliver a successful fundraiser in support of the USO.
About Barbecue for the Troops
Aligned with the USO's continued leadership in promoting appreciation and support for U. S. troops and their families, Barbecue for the Troops is a simple and localized way for people to rally together to host barbecues that will raise funds to support America's troops and their families, including deployed troops, wounded, ill and injured troops and their caregivers and families of the fallen.
About the USO
The USO lifts the spirits of America's troops and their families millions of times each year at hundreds of places worldwide. We provide a touch of home through centers at airports and military bases in the U.S. and abroad, top quality entertainment and innovative programs and services. We also provide critical support to those who need us most, including forward-deployed troops, military families, wounded warriors and families of the fallen. The USO is a private, non-profit organization, not a government agency. Our programs and services are made possible by the American people, support of our corporate partners and the dedication of our volunteers and staff.
In addition to individual donors and corporate sponsors, the USO is supported by President's Circle Partners: American Airlines, AT&T, Clear Channel, The Coca-Cola Company, Grand Canyon University, jcpenney, Jeep, Kangaroo Express, Kroger, Lowe's, Northrop Grumman Corporation, Procter & Gamble and TriWest Healthcare Alliance and Worldwide Strategic Partners: BAE Systems, The Boeing Company, Lockheed Martin, Microsoft Corporation and TKS Telepost Kabel-Service Kaiserslautern GmbH & Co. KG. We are also supported through the United Way and Combined Federal Campaign (CFC-11381). To join us in this patriotic mission, and to learn more about the USO, please visit uso.org.