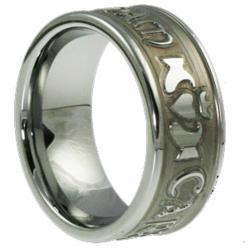 (PRWEB) May 15, 2013
iCeltic Rings, a retailer and manufacturer of quality Celtic rings, has launched a line of carved rings in many styles and widths available for men and women. The new carved collection will feature favorites including the bestselling Claddagh ring in many widths and sizes, the symbolic Mo Anam Cara ring which represent soul mates, detailed Irish knot work ring designs and simple carved cross rings. The new line of rings will be set at a new price point of $239 which is just slightly higher than the average price point of $99-$159.
The carved collection will be added to the already large array of Celtic styles the website features. In addition to the Celtic styles there is also a large selection of classic wedding bands for both men and women. Examples of the non-Celtic styles include tungsten rings, precious metal inlay rings, colored rings consisting of black and gold and wide width rings that are suitable for both wedding and fashion purposes.
iCelticrings.com encourages shoppers to shop with confidence when stopping by the website. The company offers a secure shopping environment and each purchase comes with a lifetime warranty protecting the purchase for life.
About iCeltic Rings:
iCelticrings.com launched the new website in 2012 however has been in business since early 2005. The Company also operates a Tungsten Wedding Band website as well as being a wholesaler to many jewelers across the United States.