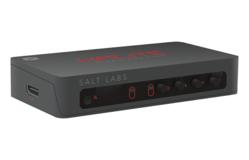 This new innovation promises to do the same thing for video that Dolby did for sound.
Orem, Utah (PRWEB) May 17, 2013
High Definition video changed the way people see movies, TV, and video games (literally). But HD has been out for a while now, begging the question: is HD as good as it gets? It's true that 3D technology has pushed the boundaries of our home entertainment experience, but it is expensive and only available with some content. Is there a way to enhance our entire home entertainment experience? The Halite Video Purifier by Salt Labs is proving that the answer to that question is "yes."
The Halite will incorporate the same patented DarbeeVision technology as the more high end video purifier, the Ocule. This revolutionary technology goes beyond conventional limitations of graphics technology by taking into account how the human brain processes what our eyes see; that way, pictures gain added depth and realism that couldn't be achieved before. This new innovation promises to do the same thing for video that Dolby did for sound.
This easy to install, easy to use accessory will have 3 different viewing modes: HiDef, Gaming, and Full Pop, which can be selected with physical buttons, the included remote control, or the on-screen menu. Users will also be able to increase or decrease the level of video enhancement in 5% increments.
The Halite won't be much bigger than an average smart phone, and is simply placed in-line between any HDMI video source (like a Blu-Ray player, DVD player, gaming console, satellite receiver, and more) and any HDTV. It has been carefully designed to not only make your content look good, but to look good itself.
The image enhancement offered by the Halite will be especially noticeable in video games. The increased level of detail and texture almost make it look like there are higher-resolutions in play, transforming the appearance of some game areas. Characters and environment details are much sharper in both 720p and 1080p games. And the best part is that all of the processing done to enhance images is done in well under 16 milliseconds (or one frame rate), which means that you won't see any drops in frame rates. An added bonus to turning up image enhancement while gaming is that characters and other objects appear clearer from a distance, which makes it a little easier to spot opponents. And in competitive gaming, players can use every advantage they can get.
With a projected MSRP of $299.00, the Halite offers an easy to use accessory at a price that makes it accessible to virtually anyone. Consumers can expect to see the Halite available from Sewell Direct and other online re-sellers later this summer.