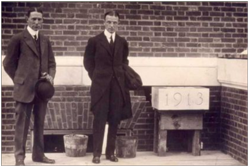 "Join us for a year-long celebration as we honor our past and recommit ourselves to the next century of serving our community." - Laurence Merlis, president and CEO, Abington Health
Abington, PA (PRWEB) May 15, 2013
A century ago, a vision for health care in the community began to develop. George W. Elkins, Sr., a prominent citizen and local Abington land owner, saw the need for something beyond his cornfields…a hospital.
One of the tenets of Abington Memorial Hospital's mission today – patient safety – was utmost in his mind even then. Legend has it that he was one of the few individuals who owned a car, and he often helped transport the injured and sick to the nearest hospital, eight long and rough miles away. When a passenger died en route, he knew it was time to act – to create a hospital for Abington and surrounding communities.
In 1912, Mr. Elkins donated land to begin to make his vision a reality. Long before the hospital opened its doors, the community rallied and the Women's Board was formed in 1913 to plan and raise funds. That same year, the cornerstone was laid, and on May 15, 1914, Abington Memorial Hospital officially opened its doors. A school for training nurses also opened in 1914.
In honor of this milestone, AMH has launched a special 100th birthday webpage – http://www.amh.org/100. The webpage features a photo timeline from the last 100 years, a way for the community to share stories, a fun activity for children and interesting facts about the hospital's history.
About Abington Memorial Hospital
Abington Memorial Hospital is a 665-bed, acute care teaching hospital with a medical staff of more than 1,100 physicians and more than 5,600 employees. These professionals provide medical care and health services to residents of Bucks, Montgomery and Philadelphia counties.
A regional provider, Abington Memorial Hospital has the only Level II accredited trauma center in Montgomery County and offers highly specialized services in cardiac care, cancer care, neurosciences, orthopaedics, home health and maternal/child health.