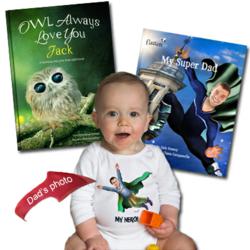 Los Gatos, CA (PRWEB) May 14, 2013
Make Dad's special day extra super this year with a personalized gift that tells him he is more than a dad to you. He is a SuperDad. Make him the super star in a custom book or personalized shirt all about him at flattenme.
While magically transforming Dad's face and name into the main character of the story, SuperDad assumes the role of a superhero as he fearlessly feeds wild jungle animals, tames a fierce alligator with big, sharp teeth, soars through space, and eats pizza with a gorilla. Any dad will be proud to know his child considers him 'Super' -- the man capable of many exciting accomplishments. Just being super not enough? Top off his SuperDad book with a custom My Hero t-shirt with Dad as a Superhero in the personalized t-shirt design. Child sizes available from 3 mos – 16 years.
If superheroes are not Dad's thing, just let him know he will always be loved with flattenme's personalized book 'OWL Always Love You'. Written by Robyn Spizman, a New York Times Bestselling Author, 'OWL Always Love You' is the perfect way to let Dad know how special he is on Father's Day.
###
flattenme.com is the place to find a large selection of amazing personalized books and gifts. Flattenme has most recently been highlighted as a 'hot gift to give' on Good Morning America. Discover a custom gift perfect for any occasion and especially for Dads.