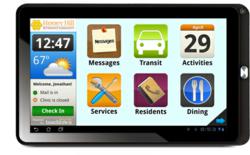 It's a communication tool that helps improve the quality of life for residents at senior living communities.
OAKMONT, Pa (PRWEB) May 14, 2013
The first wave of tablets with the new Touchtown Resident Apps is arriving at senior living communities and residents are quickly learning how to use the new technology. Among those receiving the new tablets loaded with the special senior-friendly apps are all 167 independent living residents at Clermont Park, a Denver retirement community. Touchtown Resident Apps provides a platform for seniors to stay connected through event sign-ups, daily check-ins, instant messages, transportation requests, dining information and housekeeping services.
"It's a communication tool that helps improve the quality of life for residents at senior living communities," says Jeff Pepper, president and CEO of Touchtown. "And for organizations, Touchtown Resident Apps can be integrated with workflow or point-of-sale systems to help streamline operations."
"We're already seeing how the apps allow for better and more personalized communication with residents," says Jill Vitale-Aussem, Executive Director of Clermont Park. "It promotes interaction, gives residents an added sense of freedom, and also safety and security."
The interface for Touchtown Resident Apps is straightforward and simple, including large icons and text, easy navigation, scrolling ability and a text-to-speech feature.
"There's no reason for seniors to be nervous or anxious about this new technology," says Mary Johnson, resident of Clermont Park, where the average resident age is around 84 years old. "When you try it, you see how easy it is to use, and it's been fun."
Touchtown offers more than 20 apps for senior living communities to choose from, each customizable on a community and individual level. Additional Touchtown Resident Apps range from health and wellness resources to directories to a variety of interactive communication and information-sharing tools. From making reservations at the community restaurant or signing up for an exercise class, seniors will be able to say, 'There's an app for that.'
"Seniors' growing adoption of technology, and especially tablets, and the easier access to tools and information is propelling a shift from occasional to regular use," Pepper says.
A recent research study shows that tablet usage for health activities and resources is spiking, and older adults (55+) in the U.S. are one of the fastest-growing age groups. In 2012, the number of adults using tablets for health activities and information grew to 29 million, double that of the previous year.
Another recent study found that seniors who use tablets saw significant improvement in mood and life satisfaction.
"Touchtown Resident Apps provides a valuable benefit for increasing engagement with seniors and helping them feel more fulfilled," Vitale-Aussem says.
About Touchtown, Inc.
Thousands of senior living communities across North America rely on Touchtown as a complete solution for resident communication. Touchtown's solutions cover the entire spectrum of lifestyle and emergency communication, from senior-friendly apps to emergency call buttons and sensors. This integrated approach makes it easy to promote community programs and activities, while providing affordable emergency response and notification. Touchtown customers see results in improved workflow efficiency, enhanced marketing and a higher quality of life for their residents. The company, based in Oakmont, Pennsylvania, helps senior living providers break down barriers to communication, cultivating the member satisfaction that directly results in increased revenue for their businesses. For more information, visit http://www.touchtown.us.